Council plants tree number 25,000 while Greening Our Shire
Publish date: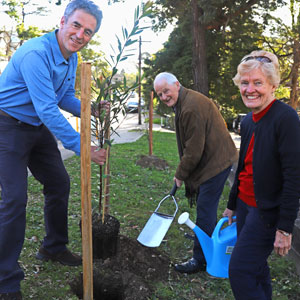 At first glance it seemed pretty routine, Council planting more trees in Pennant Hills, as has been happening across Hornsby Shire for more than two years now as part of the Greening Our Shire program.
However, the significance of the moment was enormous because one of these was the 25,000th tree to be planted under the ambitious program – Council has officially reached its original goal.
"This is a great day for the Bushland Shire because it shows just how much Council and the community can achieve when we work together," said Hornsby Shire Mayor Philip Ruddock, who planted the landmark tree.
"I cannot describe how proud I am of this achievement and I would like to offer special thanks to all of the volunteers who have helped to make this possible.
"The tree planting program has been so successful that it has actually been extended, but that doesn't prevent us from pausing to celebrate arrival at our original goal."
This particular planting saw trees including tuckeroos, turpentines and watergums installed, carefully selected for the high pedestrian activity areas within the Pennant Hills Centre.
Choosing the right tree for the right location has been an important aspect of the Greening Our Shire program, with key factors such as potential bushfire risk taken into account.
Another key element has been the involvement of local residents, with more than 2,000 volunteers of all ages taking part in the various community plantings at 363 locations across Hornsby Shire.
"This has been a genuine team effort, one that Council could not possibly have achieved without the full support of our community," Mayor Ruddock said.
"It was heartening to experience the atmosphere of community pride and neighbourly engagement that was occurring at the various tree plantings.
"This has not just been an exercise in greening our Shire, but also in strengthening the bonds between the members of our community.
"Council is immensely proud of having reached this target and we are determined to continue pushing forward with the tree plantings.
"This is the Bushland Shire and we will do everything necessary to maintain that title."
While the trees are the obvious focus of the program, Council has also taken the time to plant more than 40,000 other plants as well.
IMAGE: Mayor Philip Ruddock planting the 25,000th tree with assistance from Michael Rosettenstein (left) and Judy Vincent (right) from the Pennant Hills District Civic Trust.