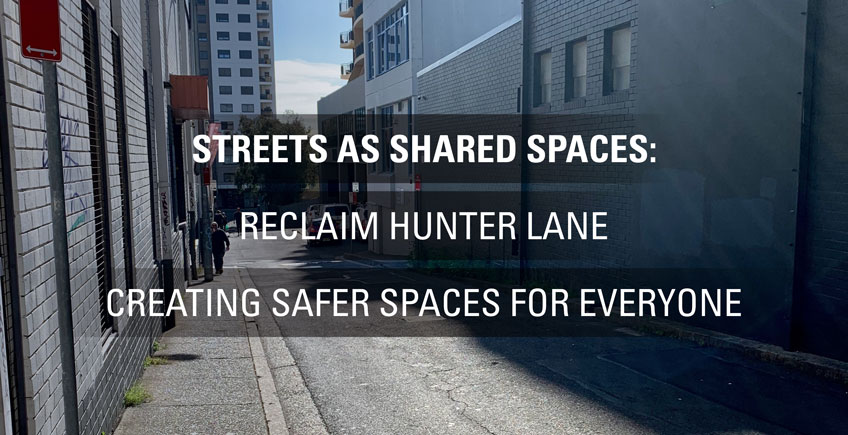 Council has been awarded a NSW Government grant through the Streets as Shared Spaces program for a temporary activation project in Hornsby town centre.
The project seeks to "reclaim" Hunter Lane for people. It will do this by trialling:
An extended shared zone north on Hunter Lane to prioritise pedestrians.
A colourful laneway design on Hunter Lane shared zone road surface to add vibrancy and highlight that this is an area where pedestrians have priority.
Installing additional lighting to improve the night time experience for pedestrians on Hunter Lane.

Why?
To improve the pedestrian experience in the area and strengthen the link between key destinations within the town centre – specifically between the mall and library
To increase the attractiveness of the area for users of the public space and adjoining businesses
To make it safer for pedestrians using the shared zone
To reclaim a vehicle dominated area for pedestrians
When?
Works have been completed in mid-April and the trial is expected to be in place for twelve months. During this time, feedback from the community will be reviewed and gauge the success of the trial. Council will then determine whether to extend the trial period or discontinue the trial.
Documents
Frequently Asked Questions
Come and visit the space and let us know what you think – make sure you Have Your Say. Council is interested in hearing from all users of the space – businesses, workers and visitors to help meet the needs of the community and deliver optimal outcomes.
The trial materials used are not intended to be permanently left in place. Permanent infrastructure and other materials designed to be in a public space for longer periods of time would need to be designed and budgeted for in future Operational Plans and Council's Delivery Program.
Yes, the existing shared zone on Hunter Lane will be extended approximately 40 metres to the north, towards Burdett Street
All other traffic conditions and traffic signage will remain the same.
A shared zone is a road or network of roads where the road space is shared safely by vehicles and pedestrians.
The maximum speed limit is always 10 km/h. There may be no road lines, kerb or gutter in a shared zone to show that pedestrians and vehicles are equal.
Drivers must give way to pedestrians at all times.
Vehicles can only stop in a shared zone if they obey the parking signs and park in marked bays, if they are provided.
Drivers travelling at a lower speed are better able to control their vehicles and safely avoid impact with other road users.
Source: rms.nsw.gov.au
Pre-trial feedback
Council received over 150 comments through various channels during the pre-trial period.
Comments can be summarised as:
Dissatisfaction with the current shared zone on Florence Street and Hunter Lane.
Mixed feedback on the colourful laneway design – both positive and negative.
Support for the pedestrian lighting improvement.
Concern around spending rate payer funds (note, this project is funded by the NSW Government).
Nil comments on the extension to the shared zone in Hunter Lane.
On the basis that the project is designed as a trial, and that the majority of negative feedback seems to be directed at existing conditions – rather than proposed changes – the trial has been implemented.
Have your Say
Please share your thoughts by clicking on the "Have your say" button below to complete the online survey. Let us know how you think the trial is going and provide feedback on the project.
You can also provide a submission via email or mail.
Please mark your submission 'Reclaim Hunter Lane' and send to:
The General Manager
Hornsby Shire Council
PO Box 37
Hornsby NSW 1630
Or email: hsc@hornsby.nsw.gov.au
Enquiries
For more information please contact Julia Morton, Place Manager on (02) 9847 6052.
---
Proudly funded by the NSW Government