2020 Road Safety Calendar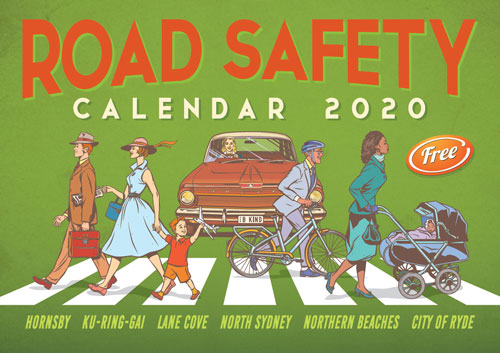 Hornsby Shire Council has teamed up with five other Sydney councils to produce an eye-catching wall calendar featuring some fascinating – yet still deadly serious - 1950s-era driver safety messages.
It's a case of the more things change, the more things stay the same with these road safety messages!. Still relevant for us today!
A poster showing a pedestrian absorbed in his morning newspaper stepping carelessly into the path of an oncoming car needs only show him browsing on his iPhone for today's audiences.
"Frayed tempers cause accidents", urges another poster.
Other posters urge motorists to be alert for schoolchildren and to avoid hogging the right-hand lane.
Are you one of the four "Road Bug killers" mentioned in another old poster?
The "throttle bug"; the "bottle bug", the "jostle bug" or the "muddle bug"?
The calendar demonstrates that the road safety messages of the 1950s are still relevant for us today, especially with the increase in congestion and distractions on our roads.
Hornsby, Ku-ring-gai, Lane Cove, North Sydney, Northern Beaches and City of Ryde Councils all collaborated to produce this calendar.
Get a copy of the calendar and remind yourself of what you need to be doing to improve the safety for everyone on and near our local roads.
For a copy of the calendar, visit libraries and customer service centres at the participating Councils.
January: Distraction – Different Distraction Same Consequence
February: School safety – Drivers Be Alert
March: Yellow Traffic Lights – Yellow means stop
April: Keep Left – Hogging the centre frays tempers
May: Care and Courtesy – These four 'Road Bugs' are killers
June: Under 25 - drivers – Let your driving reflect your maturity
July: General awareness – Road Safety Game
August: Indicating – Another straight talk to bad drivers
September: Bicycle riders – Look before opening
October: Watch out for kids – Wanted alive
November: Speed – Slow down and live
December: Holiday safety – Make sure of many happy returns
The 2020 Road Safety Calendar is a collaboration of Hornsby, Ku-ring-gai, Lane Cove, Northern Beaches, North Sydney, and Ryde Councils.
Let us know what you think of the 2020 Road Safety Calendar. Go to: