Tree Preservation Order
Protecting trees on private property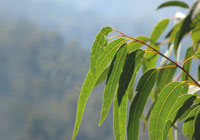 This Tree Preservation Order is in effect for the entire Shire of Hornsby.
Download the formal Tree Preservation Order - 27kb or see below for how the Tree Preservation Order applies to residents.
Council's Tree Preservation Order aims to conserve and maintain the bushland character of Hornsby Shire.
Trees are an important part of the character of our area, attracting people and adding to property values. Vegetation also plays an essential role in maintaining the environmental health of our region by protecting soil and water supplies, storing carbon and providing habitat for wildlife. Indigenous trees (and also many introduced species) provide food, shelter and protection from predators for birds, animals and insects.
Which trees are protected?
A tree is protected if:
It is a species indigenous to the Shire of Hornsby AND
It is more than three metres (measured at the nearest point at the base of the tree trunk) from an 'approved foundation' or inground swimming pool (measured from the waters edge) AND
It is more than three metres in height
OR;
It is located in Heritage Conservation Areas, listed as a heritage item or located on a heritage listed property AND
It is more than three metres (measured at the nearest point at the base of the tree trunk) from an 'approved foundation' or inground swimming pool (measured from the waters edge) AND
It is more than three metres in height
Any trees identified to be retained as a condition of development consent are protected.
All trees located within an endangered ecological community (EEC) are protected regardless of size.
What trees are not protected?
The following trees on private property can be removed or pruned by more than 10 percent of the trees total foliage area per annum without consent from Council:
All pruning must be carried out in accordance with Australian Standard AS4373-2007 Pruning of Amenity Trees.
What is an 'approved foundation'?
An 'approved foundation' is a concrete slab which supports any approved residential building, garage, commercial premises or community building with walls; or brick supports located on strip footings or pad footings/supports which support any of the above structures.
For the purposes of the order, the visible wall immediately above the buried foundation is taken to be the foundation.
Please note; this definition does not include buildings on pole frames or pier and beam footings or carports.
Where are the Heritage Conservation Areas and heritage items located?
The Shire's six Heritage Conservation Areas (HCAs) are:
Beecroft/Cheltenham Heritage Conservation Area
Barker College Heritage Conservation Area
Hornsby West Side Heritage Conservation Area (Mt Errington Precinct, Peats Ferry Rd Precinct, Pretoria Pde Precinct)
The Crescent, Pennant Hills Heritage Conservation Area
Wahroonga Heritage Conservation Area
Wahroonga (North) Heritage Conservation Area
Download a map showing conservation area boundaries - Hornsby Shire Council Heritage Conservation Areas - 1.1MB.
The Hornsby Shire Local Environment Plan (HSLEP) (available at hornsby.nsw.gov.au) has a full list and details of the Shire's heritage items and HCAs.
Special protections for trees in Endangered and Critically Endangered Ecological Communities
All trees regardless of size (including dead trees) within EEC are subject to protection. The NSW Office of the Environment and Heritage (OEH) has special rules for threatened species and trees (including dead trees) located in Endangered and Critically Endangered Ecological Communities. For further information, please contact the OEH on 9995 5555 or visit www.environment.nsw.gov.au.
Who can apply to remove a tree?
It is the responsibility of the owner of the tree to apply to Council to prune or remove a tree. Council will require the owner's endorsement of an application to remove a tree. The results of the application and any decision issued will be sent to the owner of the tree.
An application MUST be submitted for each property.
How do I apply for permission to remove or prune a protected tree?
Apply online
Online applications and payment by credit card is available through Online Services Portal. (Please note, residents must first register to access online services.)
Download an application form
Following the receipt of your initial application, one of Council's qualified arborists will inspect your tree/s and make a determination. The owner of the tree is entitled to appeal this decision.
Inspection Fees
There is a fee for the inspection of tree/s on private property.
Pre-Development Application fee - $116 per hour
Pensioner Discount* - $58 per hour
| Number of trees | Standard fees | Pensioner discount* |
| --- | --- | --- |
| 1 to 3 trees | $126 | $63 |
| 4 to 10 trees | $158 | $79 |
| 11 to 100 trees | $315 | $158 |
| More than 100 trees | $420 | $210 |
* Pensioner card number to be supplied.
Request for Appeal of Council's Determination (second inspection) - $105.**
** No pensioner discount is available for appeal applications (second inspection).
Fees are GST free. Valid until 1 July 2013.
When is Council likely to give consent to remove a tree?
Council may consider granting consent to remove a tree where:
A tree is considered by Council to be dying, dangerous or diseased
A tree is causing or likely to cause substantial property damage to houses, buildings, etc
A tree is substantially misshapen or causing substantial over-shadowing
Council will generally not give consent to remove a tree where:
A tree is shedding leaves, dead wood, fruit or bark as this is considered a natural process
A tree is causing minor damage to property such as a driveway
The objective is to improve a view
There are unsubstantiated fears about large trees
A tree is causing blockage to pipes
A tree is causing minor shading
How can you appeal against a Council decision on your application?
If you wish to appeal against Council's decision on a tree application you must do so in writing, by completing an application form for a first appeal of Council's determination (fees apply). The appeal application must include any fresh or additional information not initially included eg documentation of damage caused by a tree or a report on the condition of the tree from an appropriately qualified arborist, a building report from a structural engineer or a pest inspection report. The matter will be considered by a different suitably qualified Council staff member.
I'd like my neighbour to prune a tree on their property, what should I do?
Council has no power to compel a neighbour to prune or remove a tree, including recently planted trees. If you have a concern about a neighbour's tree, it is best to resolve the issue by having a friendly discussion with them. Most neighbours will be helpful and understanding.
You can prune an overhanging branch up to the branch junction nearest to the property boundary without Council consent; provided you don't prune the total foliage area of the tree by more than 10 percent; if the work can be performed without encroaching on your neighbour's property or climbing the tree. It's best to notify the neighbour before you prune the tree. Please ensure you prune the tree in accordance with AS4373-2007.
Council cannot arbitrate in disputes relating to neighbours and trees. Legal advice may need to be obtained in such disputes from a solicitor or the Community Justice Centre. The NSW Land and Environment Court has the power to settle tree disputes.
For more information about trees and neighbours, please visit lec.lawlink.nsw.gov.au.
How do I prune a tree?
General crown maintenance is the recommended method of pruning trees. Pruning is according to the growth habit of the tree. It does not reduce the volume of the crown and retains the structure and size of the tree. All pruning should conform to Australian Standard 'Pruning of Amenity Trees Australian Standard (AS4373-2007). This involves dead wooding, crown thinning which does not involve reshaping the tree, retaining the original height and width, pruning selected branches only, to ensure the tree is structurally sound and well-shaped. You should remember that indiscriminate lopping/pruning can be a danger to your safety and the health of a tree.
What are the penalties if I breach the Tree Preservation Order?
It is the responsibility of the property owner to comply with this order.
If you remove, damage, top or lop a tree or its roots or change the soil levels around the base of a tree, you may be issued with a penalty or a fine of up to $1.1 million if prosecuted in the Land and Environment Court or on the spot fines may be issued.
In addition, the court may direct you to plant new trees and vegetation and maintain them in a healthy state until mature, as well as providing a monetary security for the performance of this obligation. You may also be liable to a penalty for engaging a contractor to do the work on your behalf.
How can I find out more or ask a question?
Please call Council's Customer Service Team on 9847 6853 (Monday to Friday, 8.30am to 5pm).