Sewerage management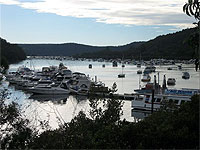 Some parts of Hornsby Shire do not have sewerage services. In unsewered areas property owners are responsible for choosing an appropriate method for the onsite treatment and disposal of household wastewater.
On site sewage management systems are used on properties with no access to sewer mains for the treatment and disposal of wastewater generated within the household. For more information download Onsite Sewage Management Information Sheet - 372kb
The most common types of these are:
Septic tanks
Wastewater passes through a septic tank and is gravity fed or pumped to sub surface trenches. For more information download:
Aerated Wastewater Treatment Systems (AWTS)
Wastewater is aerated and disinfected before irrigated onto gardens and lawns. For more information download: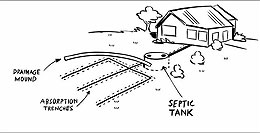 Compost Toilet
Generally, all solids are removed from the wastewater stream and are transformed into compost by micro-organisms. For more information download:
Pumpout
Wastewater passes through a septic tank into a holding well and is collected by a tanker on a regular basis. For more information download:
Approval to install
All owners wishing to upgrade their existing onsite sewage management system or install a new onsite sewage management system are required to apply to Council for an Approval to Install a Wastewater Treatment System. Download and application form - Application for approval to install wastewater treatment system - 435kb
Approval to operate
All owners of sewage management systems are required to apply to council for an Approval to Operate. This Approval helps council monitor and manage the cumulative impact of sewage pollution in local areas. The Approval also ensures that property owners are aware of their responsibility to efficiently operate and regularly maintain their system. Download an application form - Approval to operate a sewerage management system - 220kb
Further information
For more information on onsite sewerage management, phone Council's Environmental Protection Team on (02) 9847 6784 or visit www.health.nsw.gov.au.