Emergencies
For reporting an emergency, including bushfire, the nationwide emergency telephone number: 000.
State Emergency Service
NSW State Emergency Service (SES) is the combat agency responsible for flood, storm damage and tsunami. SES also supports Police and other Services in search and rescue, major emergencies and disasters. Members of the SES are volunteers and are recruited regularly.
Visit www.ses.nsw.gov.au for more information.
For emergency help in floods and storms, phone the SES on 132 500.
Bushfire
If you are reporting a bushfire please call the national emergencies number 000.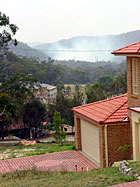 NSW Rural Fire Service provides rural fire protection and emergency response in Hornsby Shire.
This involves not only attending to fires, but response to a diverse range of incidents, in addition to planning, coordination, mitigation and education programs that are applied in the entire community.
Hornsby Rural Fire Service Control Centre is located at 1049 Pacific Highway, Cowan. For more information or inquiries please phone the Fire Control Centre on (02) 9883 2000 during business hours.
For more information:
Rural Fire Service information line - 1800 679 737

Winter Firewise Safety Checklist
Is your home winter fire safe? Download the winter fire safety check list (33kb).