Rural Sports Facility
Location:
18-20 Bayfield Road, Galston
Booking enquiries: (02) 9847 6058
For the most up to date ground closure status: mobile phone text message service - SMS HSCRSF to 1992 2767
THE RURAL SPORTS FACILITY IS OPEN.

(Last updated Wednesday 17 April 2013)

About the Rural Sports Facility
The four hectare site is suitable for:
equestrian dressage
showjumping
school equestrian activities
casual riding
riding for the disabled and
canine activities
The facility is open seven days a week from 8am to 6pm and is available for hire for equestrian or canine events.
Enquiries regarding bookings or casual use can be made by calling the Parks Facilities Officer on Phone (02) 9847 6058.
The fee for annual use by an equestrian club is $4,725 for up to 24 uses (days) and for a canine club, $2,625. A single casual use for a day will cost $315 for equestrian events and $158 for canine events. School equestrian training events are free.
Hirers are expected to clean up litter and animal waste. All other maintenance is carried out by Council and included in the hiring fee.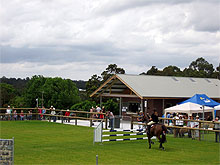 Features of the Rural Sports Facility include:
The entire site is enclosed with horse-proof fencing and gates are at the entry points to allow effective management of entry and exit
The main arena is 105m x 75m
The second arena is 80m x 50m
A third arena of 60m x 20m is available for training use or may operate as an overflow carpark
All arenas are enclosed with horse proof fencing
A perimeter bridle trail of approximately 675m length is available for training use
The new amenities building provides canteen and toilet facilities and is centrally located overlooking the two main arenas
There is a grassed viewing bank for spectators, providing commanding views over the main arena
There is on-site parking for floats and cars in the main bitumen and gravel car park areas.