Lilian Fraser Garden
< Back to listing
Address:
Cnr Bellamy and Laurence Streets, Pennant Hills
Phone:
(02) 9847 6853
Email:
hsc@hornsby.nsw.gov.au
Access is less than 2 kilometres walk along Ramsay Road from Pennant Hills railway station, or by car - turning off Boundary Road into Bellamy Street. The park is about 1km from Pennant Hills Station.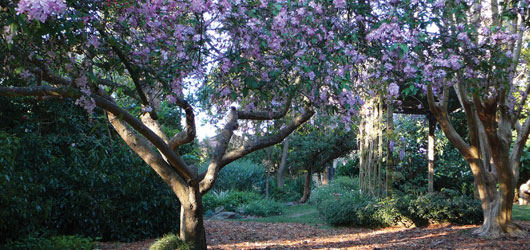 Things To Do
Wander through the garden
Picnics
Weddings, christenings and small receptions (no alcohol permitted)
Guided tours by appointment
Facilities
Small community room available for hire
History
Lilian Fraser was born in 1908 at Kurrajong, NSW. The family moved to Pennant Hills after her father Charles purchased the 'Hopetoun' poultry farm in Bellamy Street sometime between 1915 and 1920.
Over the years, much of the original farm was sold off as residential lots but almost an acre was kept for gardens surrounding the house. The present garden covers 3,426 square metres.
Lilian Fraser lived on the property for most of her life. The third qualified female biologist in Australia, she joined the Department of Agriculture in 1940 to work on citrus crops.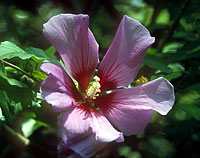 During a career spanning 33 years, Dr Fraser made many significant contributions to world knowledge of citrus diseases. She travelled extensively in Australia and overseas, spending her holidays exploring bushland for new plant and disease specimens.
Following the death of her mother, Dr Fraser became more involved in the gardens surrounding the house, growing a wide range of plants.
As trees and shrubs matured, the garden evolved into the woodland garden it is today. Among the wide range of plants are some very special for their size or rarity.
As she approached old age with no immediate family, Dr Fraser offered her garden to Hornsby Shire Council. Her final wish was for her garden be enjoyed as a public garden and park. She died in 1987, aged 79.
Further Information
Donations welcome
Large groups and bus parties must make arrangements in advance
Children must be accompanied by adults and kept under control
Please take all you litter home
Please do not damage or remove plants
< Back to listing
Search parks and playgrounds