Hornsby Mall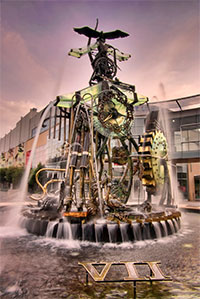 Hornsby Mall was refurbished in 2001 and is generally recognised as the focal point of Hornsby's commercial, retail and residential districts.
Holding an event or activity in Hornsby Mall
Hornsby Mall is a popular meeting place and pedestrian thoroughfare, and provides an excellent location to hold a variety of activities and events such as:
Busking
Commercial and Community Displays/Stalls/Promotions
Charitable Fundraising
Distribution of Handbills and Give-aways
Vehicular Access
Amusements devices and the like
Roaming/Static Professional Entertainment
Anyone wishing to undertake an activity in Hornsby Mall is required to complete the application form below.
For enquiries please phone (02) 9847 6535 or email HornsbyMall@hornsby.nsw.gov.au.
Bookings in person can be made by appointment only at our Community Services Building located at 28-44 George Street, Hornsby.
Resources
Image: "Hornsby Water Clock", Francis Keogh