Dog off-leash areas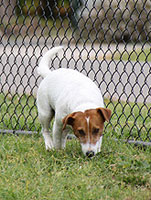 Hornsby Shire has six full time off-leash areas for exercising and training of dogs. The areas are fully fenced and have waste bins, dog waste bags and water. These areas are:
Asquith Park, Rotherwood St, Asquith
Crossroads Reserve, Cnr Turner and Berowra Waters Rds, Berowra Heights
Greenway Park, Shepherds Drive, Cherrybrook
Rofe Park, Galston Rd, Hornsby Heights Hornsby Dog Training club have exclusive use of the area on Sundays between 12:30pm and 4:00pm
Ruddock Park, Eucalyptus Drive, Westleigh
Dawson Avenue Parkland, Dawson Ave, Thornleigh
Two other sites are available. At both of these sites dogs are NOT PERMITTED during organised sport and games and maintenance activities.
Epping Oval, Norfolk Rd, Epping (Penalties apply for dogs running onto turf wicket square)
Ron Payne Park, Woods St, North Epping
To ensure a safe and enjoyable area, please consider other users.
Keep your dog in sight
Your dog must be under control by voice
Pick up and dispose of all waste correctly
Do not let your dog rush at or harass other dogs and people
Keep your dog on a lead until inside the fenced area and put it back on a lead before leaving