Bushwalks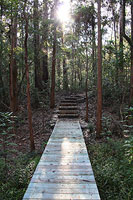 The natural bushland around Hornsby is renowned for its vistas and unique flora and fauna. We are fortunate to have a wide variety of tracks, trails and reserves to enjoy this environment.
Bushland Tracks and Trails
Bushwalking in Hornsby Shire - 1.1MB (Note: the Great North Walk Discovery Kit is no longer available from council's environment counter) is a 28 page colour booklet which describes some of the more popular bushwalking experiences in and around Hornsby.
Below is a selection of popular bushland tracks.
Free Guided Bushwalks program
Download - Summer to Winter 2013 Guided Bushwalks program - 483kb
Come along and enjoy the beautiful bushland in Hornsby Shire, meet new people and learn about the unique flora and fauna of the Bushland Shire. Our professional guides will lead you through new and familiar tracks and share their wide knowledge of the local environment.
Whether you prefer an easy stroll or a more challenging walk, there's something for everyone in the new 2013 program.
Bookings
Places are limited and bookings are essential for all walks
Bookings will only be taken up to one month in advance of each walk to allow for fairness between those booking
To make a booking send us an email with the name of the walk, your name and contact number. You will be sent an email with confirmation details
If you wish to cancel your nominated walk please let the booking officer or your guide know as soon as practical so all vacant places may be filled
Walking your dog in bushland areas
Please see List of leashed dog walking - 13kb in Hornsby Shire in which dog walking is permitted.
Dogs must be kept on a leash at all times within these areas and owners are responsible for picking up after their dogs and staying on designated tracks.
Read more about off-leash areas in Hornsby Shire.
Friends of Berowra Valley
This local group has information about walks on their website.