Wallarobba Arts and Cultural Centre
The artistic hub of Hornsby Shire, home to a constant stream of exhibitions and classes.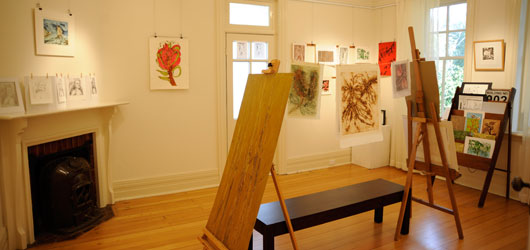 Located in central Hornsby behind Willow Park at 25 Edgeworth David Avenue, the Wallarobba Homestead was built in 1903 and has been transformed by Council into the Shire's premier art and cultural centre. Its redevelopment was recognised in 2012 with the Local Government and Shires Association Places for Arts and Culture: Improved Cultural Facility Award.
Features include a community art studio, a purpose-built printmaking room, art classes, an artists' lounge and a gallery space. The Hornsby Art Society also has an office in the centre.
Exhibit at Wallarobba
Are you an artist, artisan or craftsperson keen to share your creative works with the public for display and/or sale? Then consider holding a solo or group exhibition at Wallarobba Arts and Cultural Centre. Bookings are limited, so get in quick. To register your interest phone 9847 6893.
A new way of displaying works has recently been added - a lockable glass display cabinet in the Artists' Lounge. This is available for monthly exhibitions of small and/or fragile works including textiles, fibres, ceramics, glassware and sculpture. To make a booking please phone 9847 6504.
For more information download WACC Exhibition Application Guidelines - 31kb
Interested in hiring Wallarobba?
Wallarobba also functions as a community centre that can be hired for events, functions and regular activities. Find out more about hiring a room at Wallarobba.
Current Exhibition

Deanne James Koopelian : The Creative Void
21 July - 9 August
Deanne James Koopelian is an emerging artist that will feature a range of artwork including colourful abstract style paintings and sculpture. The exhibition combines her skills of drawing, painting, taxidermy and sculpture with the intention to reflect her "soul's journey" or psyche in various meditative, mental and emotional states. Greeting cards with drawings by her Nanna Amelia Koopelian will be available for sale including raffle draw prizes in support of Alzheimer's Australia.
Opening Night Friday 24 July, 6-8pm.
Upcoming Exhibitions

Hornsby Art Society: Portrait & Human Form
10-29 August
A themed exhibition based on the Human Form and featuring works from Hornsby Art Society Life Drawing and Portrait Groups.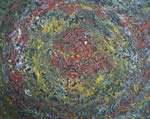 Seya Hashemi: Valley of Dreams
1-6 September
Growing up in Sharray, a small city near the capital of Iran, Tehran, Seya Hashemi learned to draw by mimicking his father's sketches. Today, Seya says "my artwork is based mostly on my dreams which I never forget. Therefore, all my paintings and drawings are original compositions without the use of models, photographs, objects or backgrounds."
Seya was a 2014 Hornsby Art Prize finalist.

Come Together: Sunshine & Catholic Care
8-19 September
A joint exhibition by artists at Sunshine and CatholicCare Disability Futures. It is a celebration of the talents of artists with disabilities as they Come Together and share their passion for art. Exhibition includes handmade paper artwork from the Sunshine paper studio and sculptures by the Sunshine ceramics studio as well as paintings and mixed media by CatholicCare Disability Futures Creative Arts Centre and Sunshine art studios.

See previous exhibitions at Wallarobba Arts and Cultural Centre

Workshops and Talks
Hornsby Art Society Demonstration Program
Hornsby Art Society (HAS) demonstration nights are held in the Beatrice Taylor Hall (located behind the Wallarobba homestead). The nights start at 7pm with artist networking, trading tables and refreshments, then a HAS activity update from 7:45pm, followed by the demonstration starting at 8pm, for 60-90mins. Cost: HAS members $3 / visitors $5. Email programs@hornsbyartsociety.com.au for more details.
Print Studio
Free Friday Printmakers' Open Studio
The Wallarobba printmaking studio is open for free access each Friday during school terms from 9.30am to 4.30pm. The sessions are suitable for beginners through to experienced printmakers. Local artist John Crawford, a highly accomplished printmaker, runs these sessions. Bookings are required. For more information or to book email wallarobbaprintstudio@gmail.com
Classes
Wallarobba Arts and Cultural Centre is home to several art schools and individual tutors, each offering a variety of art classes.
Classes this term(52kb)
Getting here
Wallarobba Arts and Cultural Centre has limited parking onsite. It is a seven minute walk from
Waitara station
or ten minute walk from
Hornsby Station
.
Transdev-Shorelink Buses
operate the 594H or 575 services from Hornsby Station, which stop directly outside the Centre – ask for Willow Park or corner of Sherbrook Rd and Edgeworth David Ave.
More information
For more information about Wallarobba Arts and Cultural Centre please contact Council's Arts/Cultural Development Officer on 9847 6893 or email arts@hornsby.nsw.gov.au.