Litter - you know it's wrong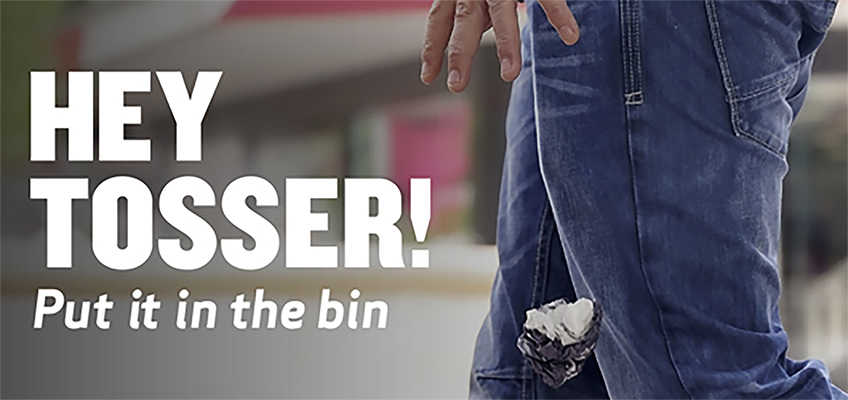 Why is it such a problem?
There are a number of reasons why the NSW Government and Council are committed to reducing litter.
sharp items such as broken glass can injure people
it can block drains and cause flooding
wildlife can swallow or get tangled in litter
it can encourage pests such as mice and rats
tossed cigaratte butts can potentially start fires
litter can make public spaces less attractive, resulting in reduced use by the general public and increased anti-social behavior
cleaning up litter costs Council over $1 million every year
Did you know?
Council cleans up 1.5 tonne of litter from parks, streets and public spaces every week
Approximately 7200kg of litter is pulled from the Hawkesbury River every year
The most common type of litter in Australia is discarded cigarette butts (7.2 billion annually)
Cigarette butts pollute water and its chemicals are toxic to small crustaceans and bacteria
Drink containers contribute the largest volume to the litter stream (45%)
Around 50 million plastic bags enter the Australian litter stream every year
Preventing litter
What you can do
put your litter in the bin
if there are no bins, take your litter home with you
encourage others not to litter
report littering from vehicles
if you are a smoker, carry a personal ashtray or use litter bins to discard butts
pick up after your dog
take part in Clean Up Australia Day or some other clean up event
after having a picnic use the bins provided or take your rubbish home with you
What Council is doing
Council is tackling litter by providing and maintaining litter bins and by collecting and disposing of litter through litter-picking, street sweeping and the installation and maintenance of Gross Pollutant Devices. To reduce the amount of litter at hotspots in the Shire, Council is using a four-pronged approach:
Improved infrastructure and cleaning: litter hotspots across the Shire are being targeted for infrastructure upgrades as part of a street litter bin replacement program
Raising community awareness and delivering education projects: selected litter hotspots are being sequentially targeted
Enforcement: compliance officers continue to give warnings or fines
Monitoring and reporting: litter audits and user perception surveys are being undertaken at hotspots
Council also supports Clean-up Australia Day, Clean4Shore and school education programs.
Fines
Councils and the Environmental Protection Authority (EPA) have authority to issue on-the-spot fines for littering offences. Fines vary from $80 - $450.
Report littering from cars
If you see someone littering from a car, you can help us by reporting it. To report online, or to download the app, go to epa.nsw.gov.au
More information
For more information visit epa.nsw.gov.au or call Council's Waste Hotline on 9847 4856.