War On Waste
Did you know, our waste is growing at double the rate of our population with 52 mega tonnes generated a year, averaging over 2 tonnes per person.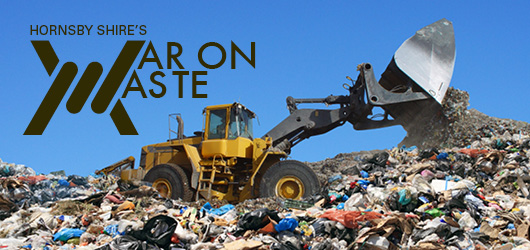 With the amount of waste increasing in Australia by nearly 8% a year, what happens if we do nothing?
Now there is an opportunity for your household to re-examine the ways you consume and dispose of consumer items?
Following on from the success of the recent ABC television program "War on Waste" Hornsby Shire will implement its own "War on Waste" which aims to inform and assist you to
reduce the waste you produce in your household
avoid and reduce the amount of waste going to landfill by increased recycling in the yellow lid bin as well as recycling of other materials e.g. batteries, light globes, soft plastic packaging and e-waste
reduce the amount of food waste going to landfill through meal planning, composting and /or worm farming
reduce your use of single use items e.g. take away coffee cups, soft plastic packaging etc.
reduce the amount of bulky waste and textiles being purchased and thrown away through increased reuse and repurposing
Participants in the War on Waste will be determined from an Expression of Interest form. Participants will need to be able to commit to a minimum of 2 hours per week to attend workshops or events.
The four week program will consist of weekly challenges to be undertaken by households with the aim of reducing their waste going to landfill.
The weekly challenges will be:
Week 1 – Doing an audit of your red and yellow bins
Week 2 – Reducing the amount of food waste going in your red bin through meal planning and composting and wormfarming
Week 3 – Tips on replacing single use items e.g. coffee cups, soft plastic packaging etc.
Week 4 – How you can reuse and repurposing clothing etc.
Week 1 - Waste audit and recycling information
A waste audit on both the red and yellow bins will be conducted.

The audit on the red bin will measure -
the amount of waste going to landfill;
the recycling being "missed" because it is being put in the wrong bin;
food or organic material that could be composted or put in the green lid bin
The audit on the yellow bin will measure -
the non-recyclable items in the recycling bin
Week 2 - Food waste/composting
Composting worm farming workshop/s will be conducted with residents on setting up and managing a compost bin to divert their food waste from landfill.
Tips and advice will also be given on meal planning etc.
Week 3 –Single use items such as takeaway coffee cups, straws etc/soft plastic packaging
Residents will be challenged to use reusable items such as a coffee cup or water bottle instead of single use. They will also be encouraged to take their soft plastic packaging to a participating recycling station near them either a supermarket or council depot, whichever is more convenient.
Week 4 - week commencing 28 August 2017 – Bulky Waste and Textiles
Residents will be encouraged to think about reuse rehoming of bulky waste. Residents will be challenged to reduce the amount of clothing being purchased by the household as well as investigating ways to reuse their textiles, perhaps making a commitment to not purchase anything new for a month. There will be a workshop on clothing repurposing and/or clothing swap.
Follow up audit to be conducted to determine the effectiveness of the program.