Fridge Buyback
By switching off your second fridge or upright freezer, you can cut your electricity use by about 10% and save about $300 a year on your electricity bill.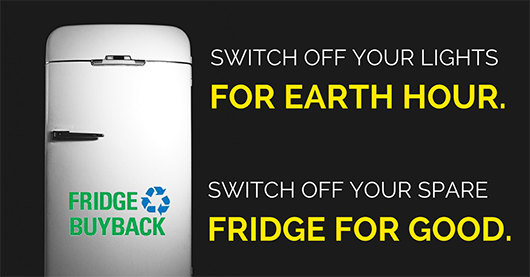 Starting with Earth Hour 2017, all Hornsby residents are encouraged to switch off their lights for Earth Hour and to switch off and recycle their spare energy-guzzling fridge or upright freezer for good.
Many second fridges are old, inefficient and are kept in areas of the home that are prone to high heat (such as garages), which makes them guzzle more power to stay cool.
Fridge Buyback's professional removalists will collect and recycle your working, second fridge or upright freezer that is at least 200 litres in capacity for FREE. A fee only applies if the property has more than 20 steps. For collections involving six stairs or less, Fridge Buyback will send you a $25 rebate!
Book a Fridge Buyback collection for your chance to win!
Book a collection through Fridge Buyback between 13 March and 30 June 2017 and go in the draw to win one of four Bunnings Gift Card worth $50.
To book call 1800 708 401 or visit www.fridgebuyback.com.au. Fridge Buyback will call you to confirm your eligibility and schedule a collection.
Competition Terms and conditions
This promotion is opens to Hornsby residents on 13 March 2017 and closes at 5pm on Friday 30 June 2017.
To be eligible you must successfully schedule the collection of a working second fridge or upright freezer of 200 litres or more in capacity through Fridge Buyback before close of business on Friday 30 June 2017. The four $50 Bunnings Gift Cards will be won by the first four names pulled out of the draw.
The winners will be informed by email and telephone and announced via Fridge Buyback communications on Tuesday 4 July 2017.