E-waste
Hornsby Shire Council will accept your old electronic items, known as e-waste, for free.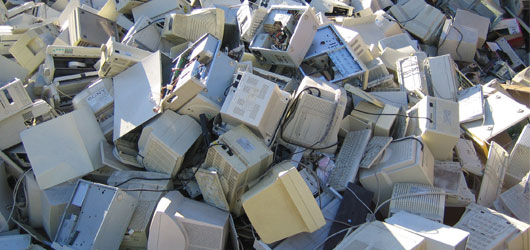 We accept many unwanted electronic items. Items can be dropped off to:
Council's Waste Depot
29 Sefton Rd, Thornleigh
Tuesday to Fridays, 8:30am to 4pm,
Saturdays, 8:30am to 12pm,
Council staff will be happy to help you unload the items, though they reserve the right to refuse if there are potential safety or damage concerns to your vehicle.
Items that WILL be accepted in small quantities from households and small businesses:
Computers (laptops, desktops, notebooks etc)
Televisions

Scanners

Printers, including multi-function copy/print/scanner devices
Printer toner cartridges (remove from printers)
Keyboards and mouse
Hard drives/floppy drives/CD drives
Joystick and gaming controllers
Web cameras
DVD and VCR players
Set top boxes
Hornsby Shire householders can also drop off:
Light globes and fluorescent light tubes (wrap in plastic or paper to prevent breakages)
DVDs and CDs (remove from their plastic covers)
Mobile phones
Household batteries (up to size D)
Car and motor bike (lead acid) batteries

Bundles of clean soft plastic bags (packaging and supermarket bags)
Items that WILL NOT be accepted:
Microwave ovens and other kitchen appliances
White goods
Stereo equipment
Radios
Smoke detectors
X-ray machines
X-rays
VHS video tapes
Broken glass CRT television or monitors - loose picture tubes
E-waste can also be dropped off at the following locations:
For other drop-off locations, see the Australian Government's National Television and Computer Recycling Scheme or visit sita.com.au ·