Illegal dumping
llegal dumping costs Council and the community thousands of dollars each year and damages our environment.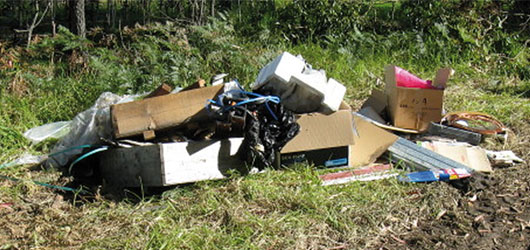 Report illegal dumping
Please help keep your neighbourhood safe and clean by reporting illegal dumping. You may do this in a numbner of ways:-
Use the Environmental Protection Authority's online reporting tool at https://ridonline.epa.nsw.gov.au
Call Council's Waste Hotline (02) 9847 4856.
Call the EPA Hotline on 131 555
You can also complete an Illegal Waste Dumping Report.
Please remember to record:
Date and time you found the rubbish or saw it being dumped;
Exact location;
Type of items.
If possible, also record:
Vehicle registration, colour and make/model;
Company name or logo;
Photos.
For more information about illegal dumping visit the EPA website.
Remember: Placing your bulky waste out front more than one day before your collection date is considered illegal dumping.
Illegal dumping is a crime and Council can issue fines up to $4000 for illegal dumping on public land.
Neighbourhood dumping
If you have trouble with a neighbour dumping waste out the front of their home, please try to discuss the problem with them first.
If you cannot resolve the problem, phone Council's Waste Hotline on 9847 4856 and we will try to assist.
Waste removal contractors
If your waste is illegally dumped by a contractor you hire, both you and the contractor are legally responsible. To protect yourself, make sure you keep records such as:
Who transported the waste (company name, ABN, vehicle registration and driver details);
Date and time;
Description of waste;
Where the waste was transported to;
Copies of dockets/receipts for disposal of the waste (including date and time of delivery and the description of waste).
The Disposing of waste lawfully form - 126kb will help you keep track of the important details.