Drainage and Stormwater
Help keep our drains clear and avoid flooding by being careful with your building materials.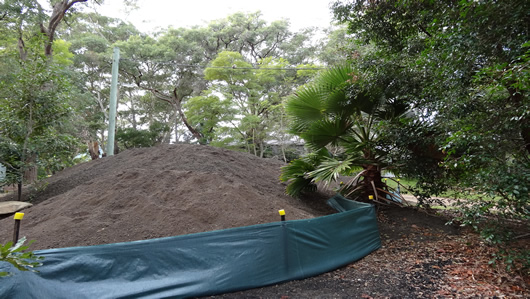 Building materials and mulch can quickly cause flooding if they are unloaded near gutters and drain pits, as they can block drains, especially when it is raining.
Drain blockages can also potentially cause damage by flooding your property or a neighbour's.
Ensuring that you have a properly organised space to store material is a simple way to help keep Hornsby Shire's gutters (and waterways) clear during the upcoming storm season.
When you get mulch or building materials (such as top soil, road base and crushed granite) delivered to your house, ensure that there is a space at your property set aside for it to be unloaded onto.
Avoid getting materials placed onto the nature strip, and if you have to, ensure they are at least one metre from the drain.
You can also prevent drain blockage and ensure that your neighbours downstream don't have material flowing onto their property by using a sediment control fence, which are available from local hardware stores.
Drainage easements are also an inappropriate place to dump excess building materials, mulch or grass clippings, as these can block drains and flood neighbours downstream.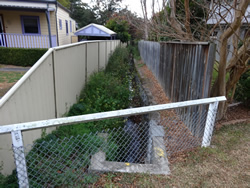 Open easement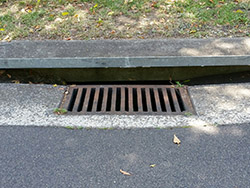 Stormwater drainage pit