Hornsby Quarry
Download an aerial photograph of Hornsby Quarry - Aerial View - 408kb
Hornsby Quarry update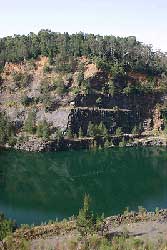 Legal action
In November 2008, Council took successful legal action to obtain a refund of approximately $2.4 million for GST payable on compensation for the forced acquisition of Hornsby Quarry. Through an out-of-court settlement, Council has since recovered a portion of the interest payable on this refund, which was initially refused by the Australian Tax Office.
In a separate case, Council is currently taking legal action in the Supreme Court of NSW against the Valuer General, contract valuer and against the former owner of the quarry, CSR. Council is seeking damages in relation to the amount paid for the acquisition of the Quarry.
The parties have discovered documents in relation to the Court proceedings and Council's legal team has reviewed the documents and briefed experts to prepare evidence to support Council's case. Council's evidence includes expert reports addressing valuations, geotechnical assessment, quantity surveying and town planning.
The Defendants are now required to prepare their evidence in reply by December 2011. When evidence has been filed by all parties, it is possible that the parties may be directed to hold a Mediation to explore the prospects of settlement. Should a settlement outcome not be achieved, a Hearing would be fixed. It is envisaged that any Hearing would be fixed for the latter half of 2012.

Future of the quarry site
Last year Council resolved to fill Hornsby Quarry with virgin excavated natural material. Experienced consultant Cardno was engaged in May 2010 to seek planning and environmental approvals to enable the quarry pit to be filled.
Reports and documentation
All relevant reports can be viewed below.
Options for filling hornsby quarry
Hornsby quarry legal developments
Safety of Hornsby Quarry and Environs
The above two files and audio files of the address can also be downloaded from Bang The Table.
Hornsby Quarry and Environs Expressions of Interest
Pells Sullivan Meynink Pty Ltd Geotechnical Report (February 2007) - Identifying the geotechnical and hydrogeological constraints relevant to land use options within Hornsby Quarry
Geotechnical report peer review undertaken by Dr Charles Gerrard
Dr Pells' response to Dr Charles' peer review
Hardcopy versions of this report can be viewed at level 2 of Hornsby Council's Administration Building.
Copyright information - The information contained in these documents is the property of Pells Sullivan Meynink Pty Ltd (PSM). Copying of this material in whole or in part without the written permission of PSM constitutes an infringement of copyright laws.
Public submissions in respect of Hornsby Quarry
Parsons Brinckerhoff - Land capability Study and Master Plan for Hornsby Quarry and Environs (October 2004)
Any enquiries relating to the above should be directed to Council's Manager, Design and Construction Branch. Phone (02) 9847 6675, or email hsc@hornsby.nsw.gov.au