Business Investment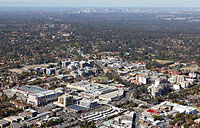 Hornsby Shire offers a wide range of opportunities and choices for the investment community, particularly those wishing to invest in northern Sydney.
Located about 30 kilometres from the Sydney CBD, and covering about 510 square kilometres, the majority of the Shire comprises natural bushland which provides postcard picture backdrops to some of its residential and employment areas.
Several factors make Hornsby Shire an excellent business investment area:
it has a diversity of employment areas offering choice in location and investment opportunities;
it is ideally located on major transport corridors which enable easy and quick access to the Sydney CBD, airport and port and the business parks such as Macquarie;
it has a wide range of housing opportunities, together with excellent educational, health and recreational facilities, to meet a variety of employer and employee needs;
the Council has an organisational culture passionate about, and committed to, attracting new, and supporting existing, business;
it has a highly skilled local labour force and access to a large regional workforce;
Hornsby town centre with over 6,000 employees is identified for targeted growth in the Sydney Metropolitan Strategy; and
the Shire is already home to major national and international enterprises such as the national offices of McDonalds and Wrigleys, as well as the first, and one of the largest, Westfield shopping complexes.
Investment opportunities
Hornsby Shire offers a wide range of investment opportunities and choices focused on its major commercial centres and industrial estates. The major commercial centres are Hornsby (150,000m2), Epping (50,000m2), Pennant Hills (60,000m2), Carlingford (35,000m2), Thornleigh (46,000m2) and Dural Service Centre (15,000m2).
The major industrial areas are located at Asquith, Waitara and Mt Kuring-gai.
If you require further information, please contact Strategic Planning on (02) 9847 6726.
Small Biz Connect – Hornsby
Small Biz Connect is a program that accelerates small businesses to economic sustainability, delivering growth and employment for NSW. With a commitment to outcomes, Small Biz Connect will help you to develop the skills you need to not only survive but to thrive. Small Biz Connect is a practical program which links you with our experienced business advisors, who help you plan your business' success.
Feature Items
I Want To..