Hornsby Aquatic and Leisure Centre
Announcements
---
Swimming Carnivals
Patrons are advised that School Swimming Carnivals commence on Wednesday 31 January and conclude on Thursday 8 March, 2018. Patrons are advised to check lane availability between the hours of 9am and 3pm. Council apologises for any inconvenience that the carnivals may cause.
Lap Swimming Restrictions
Monday 22/1 to Thursday 25/1, 7:45am to 10:30am
Due to School Holiday Squads, public Lap Swimming will be restricted to 4 x 25m Lanes.
17m Indoor Leisure Pool
Both lanes unavailable on Saturdays from 8am - 12pm
Hornsby Shire's newest aquatic centre, with three heated pools, play equipment for the kids, a cafe, a gym and a water slide.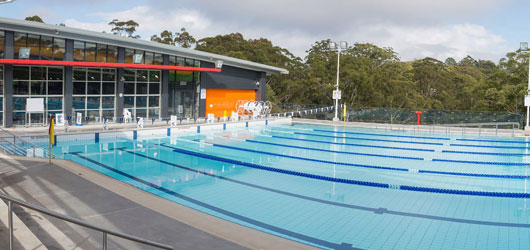 Address:
203 Peats Ferry Rd, Hornsby (opposite police station)
Phone:
9847 6300
Monday - Thursday:
5:30am - 7:45pm
Friday:
5:30am - 6:45pm
Saturday - Sunday:
7am - 6:45pm
See public holiday open hours
Features
The Hornsby Aquatic and Leisure Centre is a state-of-the-art facility. Some of its key features include:
Heated eight lane 50 metre outdoor pool for lap swimming and water polo
Outdoor seating for 500 spectators with a spectacular view of Old Mans Valley
A heated, ten metre by 25 metre indoor pool for learn-to-swim activities
A leading edge gymnasium
A heated leisure pool with zero depth entry leading into a walking zone
Fun water features for the children in the leisure pool
A two metre high enclosed water slide for children
Multi purpose rooms for club activities and dry recreation activities
Kiosk and café
Child minding service
Parking on site for 100 vehicles
Lifts to all levels of the complex for people with access needs
Child minding
Child minding is available on Monday, Wednesday and Friday from 9am – 12:30pm. (Parents and carers please note: this service is limited to one session of 1.5 hours only per day.)
Entry requirements
Hornsby Aquatic and Leisure Centre is an accredited 5 star facility meaning there are guidelines that must be followed while visiting.
CHILDREN UNDER 5 and non swimmers - must be constantly supervised and remain within arms reach. If the child is in the water, the parent/guardian must be in the water too.
CHILDREN UNDER 13 - must be accompanied into the facility and constantly supervised by a parent/guardian. The parent/guardian must have a clear view of the child at all times. Unsupervised children (of any age) will be removed from the water if the lifeguard is concerned for their safety.
CHILDREN WHO ARE NOT TOILET TRAINED - parents and carers of children who are not toilet trained are asked to ensure swimming nappies are worn for the duration of the visit to the centre.
Parking
If the car park is full you can try the council carparks in Dural Street and William Street. These are located behind the shops on the western side of Peats Ferry Road. There is also some street parking available in nearby streets, please check restrictions.

Public holiday open hours
Public holidays - 7am-6:45pm
Good Friday - Closed
ANZAC Day - 12pm-7pm
Christmas Eve - 5:30am-5pm
Christmas Day - Closed
New Years Eve - 7am-7pm
New Years Day - 9am-7pm
Location
Hornsby Aquatic and Leisure Centre is located at 203 Peats Ferry Road, Hornsby, opposite the police station. This is on the west side of the CBD and is a level 4 minute walk from Hornsby rail and bus interchange.