Epping Aquatic and Leisure Centre
Epping Aquatic and Leisure Centre is now closed.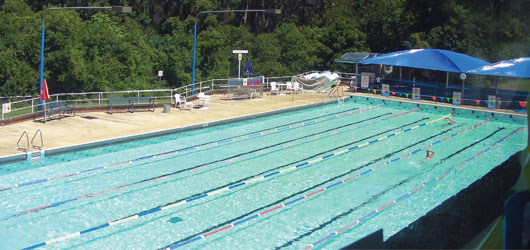 Address: Dence Park, 26 Stanley Road, Epping NSW 2121
Phone: (02) 9876 5945 (press 0 to speak to reception)
Currently closed for Winter
Epping Aquatic and Leisure Centre brochure - 336kb
20 Pass Ticket Refunds
Should you have any enquiries with regards to 20 ticket pass refunds please email gdrayton@hornsby.nsw.gov.au
Features
Outdoor 50-metre pool
Heated to 26 degrees Celsius
Covered toddlers' play pool
Fully equipped gymnasium
Kiosk/coffee shop
Swimwear and accessories available for purchase
Plenty of parking
Learn to swim
Epping Learn to Swim brochure - 311kb
The 'learn to swim' pool is heated to 31°C.
Learn to swim lessons are conducted year round
Lessons coincide with the school term
Group lessons run for half an hour, once per week
Lessons available for all ages – babies to adults
Lessons conducted Monday to Saturday
Intensive holiday program lessons
All staff fully qualified with AUSTSWIM
Private lesson are available
Intensive school programs
Bookings are essential. For further information, please phone us on (02)9847 6307 (press 0 for reception).
Squad training
Progressive squad training sessions from junior beginners to senior elite and adults
Intensive holiday programs
Free assessments
For an assessment or further information please contact reception on (02) 9847 6307.
Bookings are essential.
Disability and Injury Access
Access to the centre is quite steep, however there is easier access via the back gate of the complex. Please phone the centre if you would like assistance.