Crosslands Reserve
< Back to listing
Address:
End of Somerville Road, Hornsby Heights
Phone:
(02) 9847 6791
Email:
hsc@hornsby.nsw.gov.au
Please note: Crosslands Reserve may be closed without notice due to dangerous weather events or declared total fire bans. Council will endeavour to provide information about the closure of Crosslands on this page, but this may not always be practicable.
Posted: Monday 11 November 2013
Christmas Hours: Crosslands Reserve will be open on Christmas Day
Crosslands Reserve is located within Berowra Valley National Park. Crosslands picnic and camping areas may be closed during periods of total fire bans, flooding and extreme weather at short notice. For information on park closure for Crosslands please contact Hornsby Shire Council on 9847 6666.
Access is from a 2.5km gravel road at the end of Somerville Road, Hornsby Heights, or by foot along the Benowie Walking Track which forms part of the Great North walk.
The access road to Crosslands Reserve is locked from 5:30pm - 8:00am (EST) and 7:30pm - 8:00am (EDST), a key can be arranged if access is required outside of these times.
Please note: dogs are NOT permitted in Crosslands Reserve
Great North Walk
The Great North Walk is managed by the National Parks and Wildlife Service.
Things to do
Picnicking and barbeques
Bushwalking
Camping (bookings required - an adult over the age of 18 must be present at all times for the duration of camping bookings). Additional information is provided below.
Fishing
Canoeing
Bike riding
Nature observation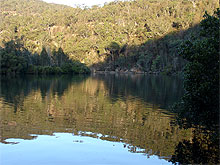 Facilities
Electric barbecues - free
Toilets
Parking
Children's playground and bicycle track
Track head for The Great North Walk
Picnic shelters
Large shelter available for hire - seats 12 adults:
Check availability and/or book
Camping at Crosslands Reserve
Camping at Crosslands Reserve is in a beautiful, natural bushland setting and limited facilities are available i.e. there are no showers and there is no power.
Campers may be asked to vacate Crosslands at short notice during periods of total fire bans, flooding and extreme weather. It is the park users responsibility to make alternative arrangements during these periods. Campers are advised to check weather conditions and fire warnings prior to entering the park.
It is not suitable for caravans, trailers or campervans and is not located close to public transport and shops.
Conditions for hire for camping at Crosslands Reserve - 129kb
Bookings for camping at Crosslands Reserve can now be done online. Please click on the corresponding button below to check availability and/or book. If a reservation block is unavailable, please check another for availability or contact Customer Services on 9847 6666.
Crosslands Reserve fees for 2014/15 - 40kb
History
The first inhabitants of the areas were a subgroup of the Dharug (the main aboriginal group of the Hawkesbury Region). They sheltered in caves and behind screens made of bark or branches. They found an abundance of food from the local vegetation, the plentiful fish, shell-fish and small animals of the area.
The first settlers in the area were Burton Crossland and Matthew Charlton, one on each side of Berowra Creek. In 1856 Matthew Charlton, engaged Burton Crossland as caretaker of his property on the eastern bank of Berowra Creek. Burton built his home on it and earned a living timber cutting, orcharding, fishing and boat-building.
Burton's son Tom carried out fishing and farming on the Crossland property and Matthew Charlton's son Albert, later sold his property to Crossland, thus giving him holdings on both sides of the creek.
Since 1947 the original Crossland grant has been occupied by a Seventh Day Adventist Youth Camp. The area opposite is known as 'Crosslands Reserve' and has been maintained by Hornsby Shire Council since 1921. In 1987 the reserve was incorporated into Berowra Valley National Park, forming 38 square kilometres of bushland, stretching from Pennant Hills to Berowra Waters.
< Back to listing
Search parks and playgrounds