Hornsby Mountain Bike Trail

Hornsby Mountain Bike Trail is located near the centre of Hornsby, just a few minutes walk from the train station. It is part of our commitment to provide sporting facilities for residents while also creating attractions that will bring visitors to the Shire.
Stage One of Hornsby Shire Council's much-anticipated Mountain Bike Trail was opened to the public in February 2013. Stage Two trails were built by mid 2014 with a few minor works to be finished in July. The network of cross-country bike trail winds through 6 kilometres of the picturesque Hornsby Park Bushland Reserve and Old Mans Valley.
Community consultation in 2010 revealed strong demand for an authorised Mountain Bike Trail. The one-metre-wide natural surface trail (known as a 'single track') has been designed with gentle gradients that are not prone to water erosion.
One of the great side benefits of this project is that it will reduce unauthorised mountain biking in areas that cannot sustain it, where natural bushland habitat is damaged. Trail use statistics at the Hornsby Mountain Bike Park in 2013/14 were a huge 900 laps per week, on average most riders would ride 3 laps per visit, which equates to 300 visitors per week.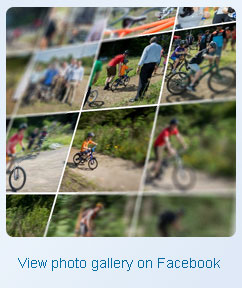 Features of the trail
This trail allows access to the unique and previously underutilised landscape that lies between the Hornsby CBD and Berowra Valley Regional Park. It contains a mixture of parkland and bushland. The single track mountain bike trail is a combination of narrow handmade bushland trails and flowing one-metre-wide machine-made trails. This 'flowtrail' is a popular design which increases riders' momentum and fun factor. The trail is close to town, which gives riders plenty of convenient places to buy food and bike supplies.
Who can ride it?
At the bottom of the fire trail is a "Green Loop" that can be safely ridden by children and mountain biking novices. From there it is possible to build up through the various levels until you're able to ride the full course of rollers, jumps and berms.
Trail closures
To ensure the safety of riders and good trail condition for all riders, trail closures will occur during extreme fire danger periods and wet trail conditions. After prolonged or heavy rain, the trail will sometimes be closed for a number of days so the surface can dry out. Trail closures will be announced on the Hornsby Mountain Bike Trail Twitter page – twitter.com/HornsbyMBT – so make sure you check that out before heading to the trail.
Parking
Parking is available on Quarry Rd. Please park towards to the end of Quarry Rd and consider the local residents by keeping noise to minimum.
Will club events be held on the trail?
Local bike groups can apply for a permit to hold club events, with each event to be assessed before approval is granted.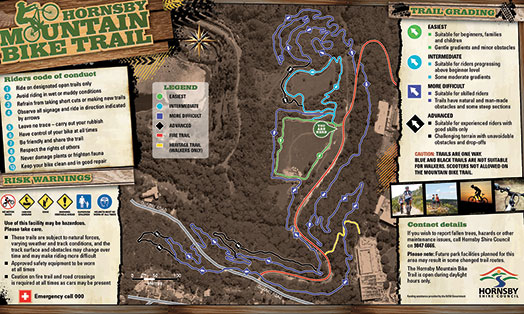 Click here for a simplified, printer-friendly map (PDF 344kb)
- this map including trail section names and emergency reference points
Did you know?
Rotorua in New Zealand generates $7.37 million (NZ) each year from mountain bike trail tourism alone (2007 figures).
Praise for the trail so far
Here is just some of the Facebook feedback we've received on the trail:
Jasper Alquiza Yahoo!
Christian Tschaikin Looking forward to exploring the track! Thanks heaps for the effort, making this happen. Well done!
Neil Aldridge What a fantastic facility! It persuaded me to get back on the mountain bike after over a decade away. HSC and Synergy Trails are to be commended.
Alexander Buring High five!! Pumped.
GoPro McGee Massive thanks to HSC and all the SNORC and Synergy Trails crew. You're really leading the way and ensuring the future of our great sport. Here's hoping other shire councils follow in your footsteps
Jamie Lewis Just round the corner from me- delighted! Well done in encouraging people to get into some outdoor pursuits- great initiative.
Dain Penman What a fantastic facility this is and kudos to the council for having the courage to support it. Well done!
David Treves This is simply awesome! I rode it several times while it was in test ride and had a brilliant time! Thanks for this trail! Now it's time to work on the project's next stage!
Gaby Mayo Nice work! Got a chance to ride the trails a few weeks ago, but definitely looking forward to bringing my GF out now that the green trail is open.
Kin-Yat Lo Many thanks to Hornsby Council to have built this facility. Can't wait to ride it.
Will Bates Fantastic for the community. Can I ask that all the riders travelling to Hornsby Shire also bring their wallets and support the local businesses that have supported the trails and welcome riders.
Lincoln Robinson Congratulations on making this worthwhile investment, Hornsby Council. Well done!