Sunset Sessions 2017
Hornsby Mall plays host to free, all ages live music from Sydney's best up-and-coming talent from 5pm until 8pm each Friday in February. Dig into dinner from a food truck, grab a drink from the pop up bar, pick something up from the crafts market, and chill out to summer tunes.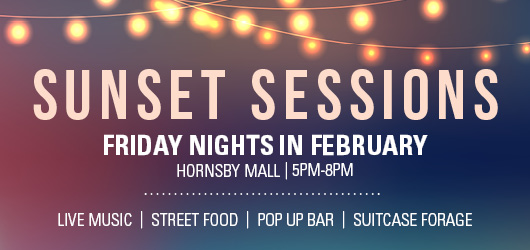 Sunset Sessions brings the best live music from up-and-coming artists to Hornsby Mall for long summer Friday evenings for unwinding from the week or priming up for the weekend. Each Friday in February from 5pm until 8pm, enjoy live music, food trucks, a pop up bar, and intimate market that sees arts and crafts hawked out of suitcases.
Sunset Sessions 2017 featured some of the best up-and-coming musicians to the stage in Hornsby Mall: alternative RnB singer/song-writer Morgan Bain (Feb 3); Hornsby's vocal powerhouse Aleisha McDonald (Feb 3); the fun-toting pop act, with a taste for the 80s, Froyo (Feb 10); one man multi-instrumentalist Christo Jones (Feb 10); vulnerable and dark pop music that is uplifting and gorgeous from Le Pie (Feb 17); striking vocals amidst a haunting instrumental soundscape from BUOY (Feb 24); and electro-soul from Bow and Arrow (Feb 24).
A huge thank you to everyone to came along. Check out some photos from the Sessions below.