Bushland Festival
Bushland Festival last took place in 2013. Council is now running more varied events across the entire shire.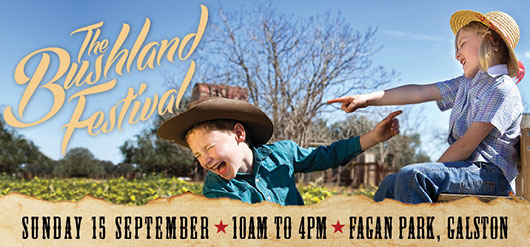 When: Sunday 15 September 2013
Time: 10am – 4pm
Where: Fagan Park, Arcadia Road Galston
Grab the whole family and join us for our annual Bushland Festival. As always, we have an exciting line up of musical entertainment, rides for the kids and a huge variety of market stalls.
Live music from Danni Da Ros, Golden Guitar winners Camille & Stuie, Luke O'Shea, Steve Passfield and bush band Simply Bushed
Interactive musical session for kids - sing along with the band to popular Australian tunes
Reptile displays by Crocodile Encounters
Whipcracking and lasso demonstrations
Miniature pony display by Manor Farm Pony Stud
Live bee displays (fully enclosed) by Beezeebo
Bird show by Feathered Friends, including Swooping Barn Owls, Red-tailed Black Cockatoos and Australia's smartest cockatoo, the mischievous Tirrike
Bush poetry from the Rhymer from Ryde
Organisations providing information for the community including: Hornsby Permaculture Group, The SmallBiz Bus, Chinese Calligraphy group and many more