ANZAC Poppy Project
Saturday 1 - Sunday 30 April
Help us remember those who fought for Australia.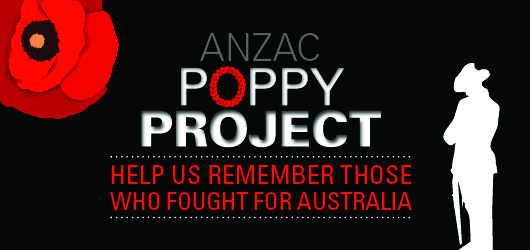 ANZAC POPPY PROJECT
From early April, come and view the poppy display at Hornsby Library adorned with poppies made by kids from local schools and members of the Hornsby Shire community.
WHY ARE WE CREATING A POPPY WALL?
We are placing poppies to remember the fallen Australian soldiers, especially those from Hornsby Shire. By placing a poppy we honour everybody who has served for Australia, paying special tribute to those who have given their lives in the various struggles.
WHAT IS THE 5,000 POPPIES PROJECT?
The 5,000 Poppies Project began in 2013 as a personal tribute by two Australian Women; Lynn Berry and Margret Knight. They started by creating handmade poppies to plant at the Shrine of Remembrance to honour their fathers who fought in World War Two. Initially, 120 poppies were planned to be made, but then friends and strangers joined in. Now there are displays and contributors all over Australia and the world.
WHY DO WE CELEBRATE ANZAC DAY?
Anzac Day began as a commemoration of the landings at Gallipoli on 25 April 1915. Over the past century it has grown to become a recognition of the service provided by everybody who has been part of Australia's armed forces.
WHAT DOES ANZAC STAND FOR?
Australian and New Zealand Army Corps.
WHAT WAS HORNSBY'S CONTRIBUTION TO THE FIRST WORLD WAR?
More than 370 young men from Hornsby Shire volunteered to fight in the First World War. Most felt it would be a grand adventure and the war would be over by Christmas, but instead they endured four years of immense hardship that is difficult to fully comprehend today. Sixty of those young men never returned and remain buried on foreign battlefields.
WHY DO WE PLACE POPPIES?
During the First World War red poppies were among the first plants to spring up in the devastated battlefields of Northern France and Belgium. Their red colour represents the blood that was spilt by the brave young men who fell – in many soldiers' stories it was the blood that had turned the flowers red – while their growth on the battlefields symbolises the resilience of life and its ability to flourish in even the harshest circumstances.
Venue:
Hornsby Central Library
Location:
28-44 George Street. Hornsby
Time:
Weekdays: 10am - 9pm; Sat: 9:30am - 5pm; Sun: 2pm - 5pm
Cost:
Free
Contact:
Belinda Namnoum
Phone:
9847 6553
Email:
poppyproject@hornsby.nsw.gov.au