Upcoming Exhibitions at Wallarobba Arts and Cultural Centre
Current Exhibitions
Further details are available in the ARTicle enewsletter, distributed quarterly. Sign up to receive the newsletter at hornsby.nsw.gov.au/culture
Exhibitions at Wallarobba are open 10am-4pm daily.
Image: Hugh van Schaick, Self Portrait. Photo credit: Hugh van Schaick.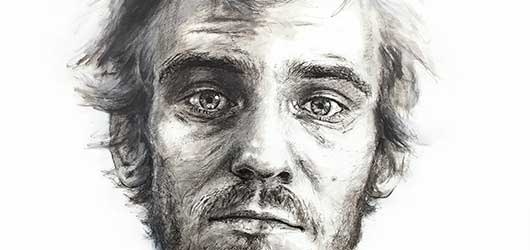 Hornsby Art Society volunteers exhibition
Tuesday 24 January – Sunday 12 February
Hornsby Art Society Young Artists' Exhibition
Tuesday 4 – Sunday 23 April
Fereshteh Pezeshki
Monday 24 – Sunday 30 April
Eva Molnar and Co.
Monday 1 – Sunday 14 May
Head On Photo Festival associated exhibitions
Hidden Hornsby
(Lower galleries)
Tuesday 16 – Sunday 28 May
Features of Hornsby's heritage and modern architecture re-imagined by local artist Jacqui Dean. Hidden Hornsby explores the places and spaces of Hornsby revealed from a new perspective.
Breath
(Upper galleries)
Tuesday 16 – Sunday 28 May
Using original poems as a stimulus for creating images, photographer Carolyn Haywood began a body of work in a personal spiritual response to the local bushland.
Re-magine competition and exhibition
Wednesday 31 May – Sunday 18 June
Be inspired by the imaginative transformation of household trash into beautiful works of art.
Thea Borne and Anna Ryland
Tuesday 22 August – Sunday 3 September
Yvette van Rensburg
Monday 25 September – Sunday 1 October
Introducing… Hugh van Schaick
Tuesday 17 – Sunday 22 October
Works presented by the 2016 Hornsby Shire Emerging Artist Award recipient as part of the annual Hornsby Art Prize.
Breathe
Susanne Latimore, Sandy Weule and Kerri Fitzpatrick
Tuesday 24 October – Sunday 29 October, 10am-4pm
Opening: Friday 27 October, 7pm-9pm
Join Berowra circle of artists Sandy Weule, Susanne Latimore and Kerri Fitzpatrick for their first joint exhibition. Their work explores a variety of landscapes and still lives, seeking strength, truth and friendship through creativity.
inTransit - untethered fibre artists
Tuesday 31 October - Sunday 13 November
Opening night Friday 3 November, 6pm-8pm
inTransit is the third annual exhibition title for the untethered fibre artists – an exhibition group of 20 members that is creating a series of related works over a five-year period. In this third iteration of the exhibition, artists explore the duality inherent within in the state of being in transit through fibre. Works examine the relative significances of journey and destination; of place, memory, time and states of being.
Hornsby Art Prize
Wednesday 15 – Sunday 26 November
Annual art award and exhibition sponsored by Hornsby Shire Council, delivered in partnership with the Hornsby Art Society.
Hornsby Art Society Christmas Exhibition and Market Day
Tuesday 5 – Sunday 17 December
Market day: Sunday 10 December