Wallarobba Arts and Cultural Centre
Wallarobba Arts and Cultural Centre is the artistic hub of Hornsby Shire. The facility is located in central Hornsby behind Willow Park at 25 Edgeworth David Avenue. The Wallarobba Homestead was built in 1903 and has been transformed by Council with work completed in 2011. Wallarobba Arts and Cultural Centre was the recipient of the 2012 Local Government and Shires Association Places for Arts and Culture: Improved Cultural Facility Award.

Facilities and activities at the centre include a community art studio, a purpose-built printmaking room, art classes, an artists' lounge and a gallery space. The Hornsby Art Society also has an office in the centre.
Exhibit at Wallarobba Arts and Cultural Centre
Are you an artist, artisan or craftsperson and want to share your creative works with the public for display and /or sale? Then consider holding a solo or group exhibition at Wallarobba Arts and Cultural Centre in 2014. Bookings are limited. To register your interest, contact the Arts and Cultural Development Officer, Joanna Joyce on 9847 6893.
New ways to Display at Wallarobba
Wallarobba has expanded its exhibition space by adding a lockable glass display cabinet in the Artists' Lounge. This is available for monthly exhibitions of small and/or fragile works including textiles, fibres, ceramics, glassware, and sculpture. No charges apply until July 2014. To make a booking please contact Michelle Cryer on 9847 6504.

For more information download WACC Exhibition Application Guidelines (PDF 31kb)
Exhibitions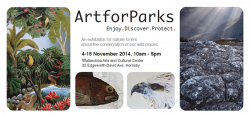 Art for Parks
Enjoy.Discover.Protect.
An exhibition of nature lovers about the conservation of our wild places.
4-15 November 2014
Open daily 10am – 5pm
Archive
See previous exhibitions at Wallarobba Arts and Cultural Centre
Workshops and Talks
Hornsby Art Society Demonstration Program
Hornsby Art Society (HAS) demonstration nights are held in the Beatrice Taylor Hall (located behind the Wallarobba homestead). The nights start at 7pm with artist networking, trading tables and refreshments, then a HAS activity update from 7:45pm, followed by the demonstration starting at 8pm, for 60-90mins. Cost: HAS members $3 / visitors $5.
Print Studio
Free Friday Printmakers' Open Studio
The Wallarobba printmaking studio is open for free access each Friday during school terms from 9.30am to 4.30pm. The sessions are suitable for beginners through to experienced printmakers. Local artist John Crawford, a highly accomplished printmaker, runs these sessions. Bookings are required. For more information or to book email wallarobbaprintstudio@gmail.com
Classes
Wallarobba Arts and Cultural Centre is home to several art schools and individual tutors, each offering a variety of art classes. For more information on what's on this term click here (PDF 30kb).
Getting here
Wallarobba Arts and Cultural Centre has limited parking onsite. It is a seven minute walk from Waitara station or ten minute walk from Hornsby Station. Transdev-Shorelink Buses operate the 594H or 575 services from Hornsby Station, which stop directly outside the Centre – ask for Willow Park or corner of Sherbrook Rd and Edgeworth David Ave.
More information
For more information about Wallarobba Arts and Cultural Centre please contact Council's Arts/Cultural Development Officer on 9847 6893 or email arts@hornsby.nsw.gov.au.