Berowra Valley National and Regional Park
Stretching from Pennant Hills to Berowra, the park takes up eight percent of Hornsby Shire and contains some of its most beautiful scenery.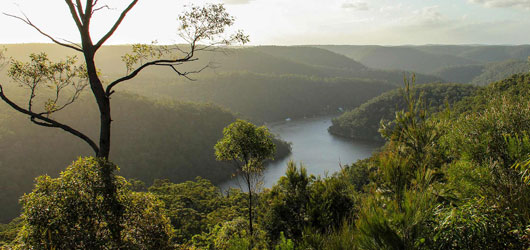 About the park
Berowra Valley National and Regional Park straddles large parts of the Berowra Creek catchment, covering about 4,000 hectares. Featuring expansive bushland scenery, it has enormous opportunities for bushwalking and recreation, contains many Aboriginal sites and protects a vast array of native flora and fauna.
Park management
The national park was gazetted in May 2012 with several small areas retained as a regional park. The park is owned and primarily managed by the National Parks and Wildlife Service (NPWS). Hornsby Shire Council undertakes specific roles within the park, including the management of Crosslands Reserve.
Bushfire management
Fire mitigation and suppression in the park is undertaken by the National Parks and Wildlife Service, directed by the Fire Management Strategy.
Plan of Management
In 2005 the NSW Minister for the Environment adopted a Plan of Management for the park. Copies are available from Council's libraries or can be downloaded from www.environment.nsw.gov.au.
Dog walking in the park
The Plan of Management above restricts dog walking in the park to three fire trails. Download the Plan of Management from www.environment.nsw.gov.au.
A Guide to Berowra Valley National and Regional Park
This 260-page coloured guide book describes the park history, bushwalking tracks, picnic areas, landscape, flora and fauna, threatened species and management challenges. For more information on the authors visit the Friends of Berowra Valley National and Regional Park website.
Walking grades
Grade 1: Allows for those with reduced walking ability to walk on well marked tracks with no steps and with interpretive signage.
Grade 2: Easy walk, mostly on well marked tracks of low gradients with no steep sections and minimal use of steps. Suitable for beginners.
Grade 3: Medium walk with some hilly sections and rougher terrain with some steep sections requiring a moderate level of fitness. Suitable for fit beginners.
Grade 4: Medium – hard walks. Steeper, rougher terrain or a longer distance track walk along defined tracks without major modification to the ground, may have short sections of rock scrambling involved. Not suitable for beginners.
For more information on walking grades visit npansw.org.au