Re-magine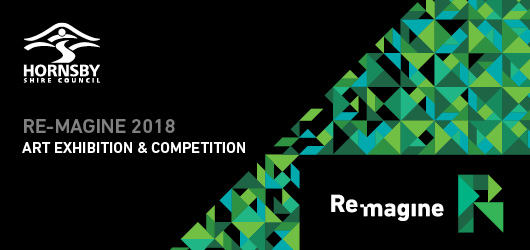 Upcycle your rubbish by turning everyday items into creative treasures. Look at rubbish creatively. Get inspired. Get your artwork on show. Win cash prizes!
Run in conjunction with Hornsby Art Society and sponsored by Cleanaway, Re-magine celebrates the re-use and recycling of waste in Hornsby Shire through art.
You are invited to enjoy this collection showcasing the creativity of artists who have transformed items which would otherwise be thrown away into beautiful works of art.
The exhibition is free and is open 7 days a week 10am – 4pm from Wednesday 30 May 2018 – Sunday 17 June 2018 at Wallarobba Arts & Cultural Centre.
Congratulations to the following artists / works that have been selected to compete and exhibit as part of Re-magine 2018
| | |
| --- | --- |
| Neil Flower | The Alice Springs Water Works |
| Beverly Beck | Lamp Cord Pins |
| Beverly Beck | Carousel Horse |
| Susan Mitchell | Art Time |
| Susan Mitchell | A Road Once Travelled |
| Beverly Beck | Duck |
| Beverly Beck | Electric Baskets |
| Bec Schopen | Beyond |
| Shelley Witt | Beauty in Brokenness |
| Daniel Burkhardt | RUSTY WIRE MYCELIUM* |
| Daniel Burkhardt | Red Offcut |
| Scott Coonan | NEW LEAF TURNED |
| Nicole Robertson | Glass Blue bottles |
| Carolyn Cooper | Noisy Miners |
| Joanne Mulcahy-Zubani | Dams & Rivers (Diptych) |
| Jodie Dunham | Autumn Music |
| Meredith Peach | Slow Growth |
| Meredith Peach | Basket For Kate |
| Chizuru Kimiyama | Sydney's Floating World |
| Paul Heppell | Re-Listing |
| Wendy Schuster | Glass & Copper Nouveau |
| Juliet Holden | Wipeout |
| Venus Nautiyal | Color me Frida |
| Aurelia Winzenberg | The Trees within our books |
| Michelle Robinson | The Phoenix Arises |
| Stephanie Powell | Oceans of Plastic |
| Corinna Lueg | Green Grocers and Black Princes |
| Corinna Lueg | Umbrella or Jacket |
| Stephanie Powell | Bottle Fish |
| Stephanie Powell | Fish Out of Water |
| Daniel Nolan | 'Australian Metropolis' |
| Daniel Nolan | "The Australian Ugliness" |
| Fiona Glaister | Ocean Coral & Sea Anemone Metamorphosis from Plastic waste |
| Sandra Cooper | Hands of Purpose |
| Berowra Christian Community School | Class Menagerie |
| Tyana Wallace | Horse |
| Jenepher Walker | Aran |
| Michelle Kirk | Bottle Blossom |
| Michelle Kirk | Concentric |
| Avril Kirk | Cluster |
| Rylee Dagan | Bird House |
| Abby Dagan | Library Fun |
| Jody Graham | Urban Dweller |
| Christian Mageropoulos | What's the Time Mr Fox? |
| Nicole Robertson | Glass table |