Hornsby Water Sculpture
The Hornsby Water Sculpture is a unique fusion of sculpture, fountain, musical instrument, and clock. It is inspired by nature and culture from around the world and throughout history.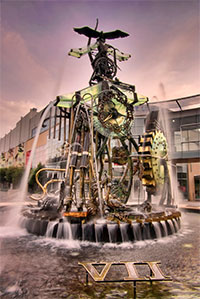 The work was commissioned by Hornsby Shire Council and created by the renowned Australian sculptor Victor Cusack, who entitled it "Man, Time and the Environment".
Victor Cusack intended the sculpture as an environmental statement, particularly relevant to Hornsby Shire with its abundant unspoilt bushland and waterways. Its symbolism contrasts the joyful creativity of past culture with humanity's increasing difficulty co-existing with other species on the planet. The sculpture therefore represents an historic "watershed" in which time is the essence.
The sculpture is constructed from cast bronze, stainless steel, and toughened plate glass and weighs approximately 20 tonnes complete with its pontoon which rotates one revolution every 12 hours. All the mechanisms are driven by water.
More information
Man, Time and the Environment by Victor Cusack (PDF 21kb)
About the Hornsby Water Sculpture (PDF 12kb)
Feature Items
I Want To..