Edgeworth David
Hornsby Shire Library & Information Service
Linking Lives to Learning and Leisure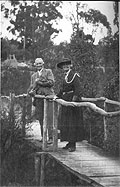 January 2009 sees the centenary of an historic achievement by the famous Hornsby resident, Sir Tannatt William Edgeworth David (known as Edgeworth David).
On 16 January 1909, an expedition led by David became the first to reach the South Magnetic Pole. David, accompanied by the younger explorers Douglas Mawson and Alistair Mackay, undertook the journey as part of the larger Nimrod Expedition led by Ernest Shackleton. The trio reached the pole after dragging sledges with food and equipment over 800 kilometres on foot.

Born in Wales, David came to Australia in 1882 to work as a geologist. He became Professor of Geology at the University of Sydney in 1891, a position he held for over 33 years.

With the outbreak of the First World War, David enlisted as a Major at the advanced age of 58. He served on the Western Front and was instrumental in mining operations under German lines. He was mentioned in dispatches three times, awarded the DSO, and promoted to Lieutenant Colonel. In 1919 he was knighted.

Following the war, David moved to Burdett Street, Hornsby, living there until his death in 1934. He was enthusiastically involved in community organisations, particularly Hornsby RSL of which he became Patron. To recognise his contribution to the local area, Junction Road was renamed Edgeworth David Avenue.

In 1999, David's former home was acquired by Council. His garden is now a public park, Edgeworth David Garden.
Feature Items
I Want To..