eMagazines

A new app, RBdigital, was launched on 28 June. Please download and install this new app to continue reading eMagazines. It is available through either the Apple App Store or Google Play Store.
Your login remains the same as it was for Zinio. This is either your email or username and password. If you have forgotten your password please click the "forgot password" link to reset your password. The current Zinio for Libraries app was discontinued on the 17th April 2018.
---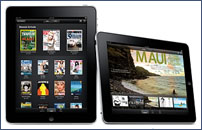 Digital magazines are available for all Hornsby Shire Library members. Browse, read and download current and/or back issues of over one-hundred titles.
If you are a first time user, we recommend reading through the following instructions prior to accessing Hornsby Library's digital magazine collection.
Seven Chinese language eMagazines are now available through RBdigital. If you are new to RBdigital emagazines please read the instructions (available via the hyperlink below) for getting started.

To access and download digital magazines you will need:
1. A computer or a mobile device with internet connection
2. Your Hornsby Library membership card
3. An RBdigital Account
4. The RBdigital app to download magazines on a mobile device

Creating Your RBdigital Account
1. Go to Hornsby Library's digital magazine collection
2. Click Create New Account and enter your library card number (without spaces) when prompted
3. Enter your name and email address, create a username and password and click Create Account

RBdigital App
To download titles to your mobile device you must first download the RBdigital app. This is a free download and can be downloaded directly from the Apple App Store or Google Play Store.

Borrowing and Reading Titles on Your Computer
1. Go to Hornsby Library's digital magazine collection
2. Browse titles or search by keyword
3. Click the title or thumbnail image of the magazine you wish to read
4. Click Checkout
5. If you are not logged in you will be prompted to login with your username and password
6. Select start reading to read within the browser

Downloading and Reading in the app
1. Open the app, and from the left menu select magazines. This will load the list of titles available through Hornsby Library's subscription. You can sort the list by title or filter to search for a specific title
2. Select the thumbnail image of the title you wish to read. Select checkout and then select read to download the magazine