Water Catchments
New biodiversity-friendly seawall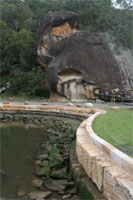 Come and enjoy the new sandstone seawall at Parsley Bay in Brooklyn. Sit and watch the passing boats, wet your feet and look out for fish.
The new seawall, funded by NSW Government, provides a number of benefits, including:
Habitat for marine life
Improved community access to the estuary
Protection of the foreshore
One more way we can enjoy the iconic Hawkesbury River, while protecting its fragile environment.
For more information contact Council's Estuary Management Team on (02) 9847 6899.
River Watch
A healthy Hawkesbury River is essential to many people within Hornsby Shire, the oyster farmers foremost among them. This short film follows one of Council's water testing teams as they make the rounds, while it also introduces an exciting new innovation - electronic buoys that automatically test the water and send results direct to your computer or smart phone.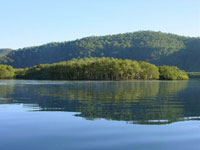 For more information please contact:
Diane Campbell
Manager, Natural Resources Team
Environment Division
Phone: (02) 9847 6903
Fax: (02) 9847 6598
Email: dcampbell@hornsby.nsw.gov.au
Feature Items
I Want To..
Find out about: