Weeds
Weeds cause significant damage to our unique environment and it is up to all of us to help control them.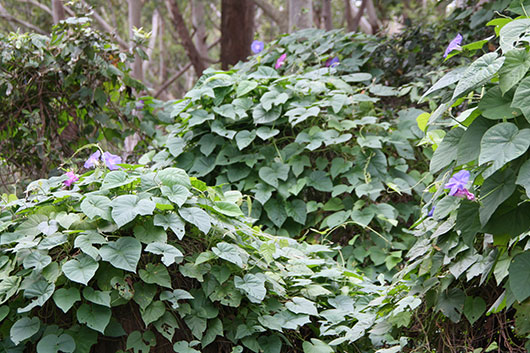 What are weeds?
Weeds are often defined as plants growing out of place. When a plant threatens the natural environment, the community or the economy, it can reasonably be considered a weed and should be controlled. Within Hornsby Shire there are many plants that are labelled weeds. There are, however, certain plants that are regulated by law because of their invasive nature, risk to human health or current distribution.
NSW Biosecurity Act 2015
Up until 1 July 2017 the main piece of legislation dealing with these high priority weeds was the NSW Noxious Weeds Act 1994. The weeds were called "noxious" and were placed into separate "classes" dictating their control measures (for example, Broad-leaf privet was a class 4 noxious weed).
Since then, this Act has been repealed and replaced with the NSW Biosecurity Act 2015 and its accompanying regulations. Under the new Act, plants are no longer called "noxious" nor have "classes".
Council is in the process of working out the implications of this change in legislation for the Shire and more information will appear here shortly.
How else can I help?
Join a local Bushcare group and gain practical skills in plant identification, weed control and bush regeneration.
When planting in your garden use locally native species or non-invasive species.
Do not throw garden waste into bushland. Use compost bins or Council' green waste bins.
Control weeds in accordance with required control measures.
Further information
For more information visit the counter at Council's administration building, Council's Community Nursery or click on the following links:
Look-Alikes: Hornsby Shire Council's Native and Weed Plant Identification Book: