Weeds
Weeds cause significant damage to our unique environment and it is up to all of us to help control them.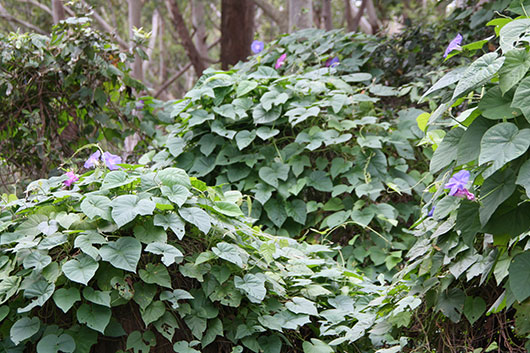 What is a weed?
Within Hornsby Shire there are many plants labelled "weeds". Weeds are often defined as plants growing out of place, and yet who is to say which plant is appropriate for what place?
Weeds and the law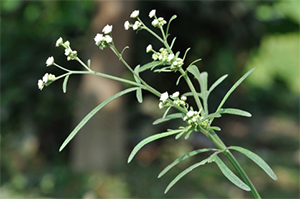 Plants that significantly impact upon the natural environment, the community or the economy should be controlled. Up until 1 July 2017 the main piece of legislation dealing with these plants was the NSW Noxious Weeds Act 1994. Under this Act certain plants were termed "noxious weeds" and were placed into "classes" that dictated their control measures (for example, in Hornsby Shire broad-leaf privet was a Class 4 noxious weed).
The NSW Noxious Weeds Act 1994 has now been repealed and replaced with the NSW Biosecurity Act 2015 and its accompanying Biosecurity Regulations.
Biosecurity risk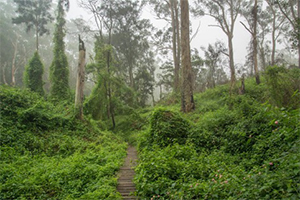 Under the new Act, plants are no longer termed "noxious weeds" nor have "classes". Instead, all plants are assessed for their biosecurity risk. This is the risk that the introduction, presence, spread or increase of a plant will have, or may potentially have, an adverse effect on the economy, the environment or the community.
Such potential adverse effects include the plant:
out-competing other organisms for resources, including food, water, nutrients, habitat and sunlight
causing harm to other organisms through its toxicity
reducing the productivity of agricultural systems or the value of agricultural products
damaging infrastructure
reducing the amenity or aesthetic value of premises
harming or reducing biodiversity
For certain plants known to have a high biosecurity risk, the NSW Biosecurtiy Act 2015 prescribes actions that are deemed reasonably practical to prevent, eliminate or contain the risk. For example,
some highly invasive plants not already present in NSW are listed as prohibited matter and prevention of the biosecurity risk is considered a reasonably practical objective
some plants with limited distributions have prescribed mandatory measures applied to them that aim to eradicate the plant and thus eliminate their biosecurity risk
some widely distributed invasive plants have biosecurity zones that seek to contain their biosecurity risk.
Regardless of whether plants have specific actions prescribed to them, the NSW Biosecurity Act 2015 recognises that everyone who knows, or ought to reasonably know that a plant poses a biosecurity risk has a general biosecurity duty to prevent, eliminate and minimise that biosecurity risk so far as is reasonably practicable.
Frequently Asked Questions
How do I know which plants pose a biosecurity risk?
Appendix 1 of the Greater Sydney Regional Strategic Weed Management Plan 2017-2022 lists all priority weeds for the Greater Sydney region that have prescribed requirements under the NSW Biosecurity Act 2015. It also lists other regional priority weeds and the minimum outcomes that demonstrate compliance with the general biosecurity duty.
NSW WeedWise is a NSW Department of Primary Industry website which profiles over 300 high priority weeds across the State and Greater Sydney Region. It describes the Biosecurity dutyrequired under the Biosecurity Act 2015 for each plant and outlines their methods of control (including registered herbicide options).
How do I control this weed?
For helpful information on the identification and control of invasive plants, visit NSW WeedWise or Sydney Weeds Committees. For fact sheets describing simple weed removal techniques visit Weed removal fact sheets.
My neighbour has weeds – what can I do?
The quickest and most effective way of dealing with weed issues on your neighbours' property is to foster good relations with your neighbour and seek to resolve the issues together. If this is not possible, contact Council and an authorised officer will inspect the property to assess whether the plant has legislative requirements to be controlled under the NSW Biosecurity Act 2015. If so, Council can proceed with the matter.
If there are no legislative requirements but the officer deems the plant poses a significant biosecurity risk that can be reasonably and practicably addressed then the matter can also be taken further. If this is not the case and you still can't resolve the issue with your neighbour, contact Community Justice Centre to arrange for mediation.
What is Council doing about weeds in bushland?
To see what Council is doing to control weeds in Hornsby Shire's bushland, go to Bushland Management.
Can I get help with controlling weeds on my property?
Council officers can provide information and advice on how to control weeds, however we are unable to undertake works directly on your property. The Australian Association of Bush Regenerators website has a list of professional bush regenerators who may be able to help you, or check local newspapers for garden maintenance businesses.
For frail and older people, carers, and people with a disability, Easy Care Gardening provides a subsidised gardening service within the Hornsby area by teams of willing volunteers.