Native Plant Giveaways 2018
Hornsby Shire Council holds several open days each year, giving away free native plants to encourage the ecosystem of our Bushland Shire.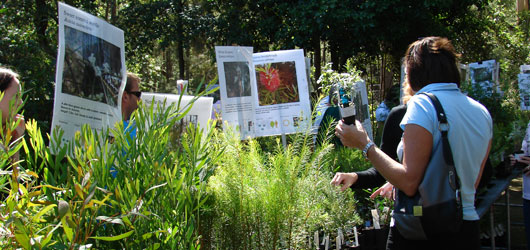 Using local native plants in your garden can attract native wildlife, are better suited to the local soil type and once established, require less water than introduced plants.
Native Plant Giveaways are open to all ratepayers from any Hornsby Shire Council suburb. This means if you want free plants from our nursery you can collect them on any of our Native Plant Giveaway dates below.
Sunday 11 March
Sunday 3 June
Sunday 23 September
Ratepayers from all Hornsby Shire Council suburbs are invited to come along and pick up to 4 free native plants for their garden. Please bring your current Hornsby Shire rates notice and ID.
Venue: Community Nursery, Pennant Hills
Location: 28-30 Britannia Street Pennant Hills
Time: 10am - 12pm
Cost: free
Contact: Nursery Co-ordinator
Phone: 9847 6832
Email: bushland@hornsby.nsw.gov.au
Plants provided in the giveaway are locally sourced and grown at Council's Community Nursery by volunteers and council staff.
Please return your tube pots to the community nursery (after hours chute at gate 2, 28 Britannia Street, Pennant Hills) or any Hornsby Shire Council library facility at Berowra, Hornsby or Pennant Hills for reuse.
Check out the video below to see what could be achieved in your garden by using local native plants.