Community Nursery
Hornsby Shire Council's award-winning Community Nursery produces local native plants, helping preserve the integrity of our bushland.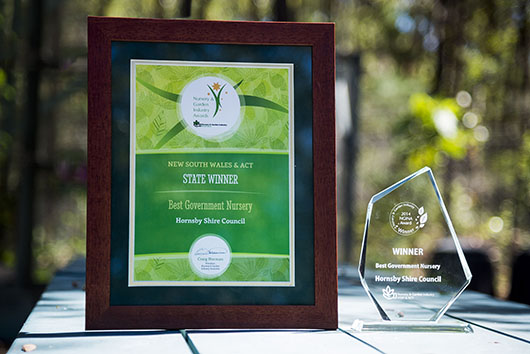 The nursery is managed by Council's Bushland Team, assisted by local volunteers. More than 52,000 plants are produced each year, many of which are given away to local residents at our
Free Native Plant Giveaways.
The nursery won the 2014 Best Government Nursery Award in NSW and ACT from the Nursery and Garden Industry Association, while also being one of four finalists for the national award.
Resources:
Ross Rapmund presentation - Collecting Seed and Plant Restoration.
Stock Grown at Hornsby Community Nursery (updated January 2017) - 85kb
Bushcare Nursery Process Poster - 1MB
NSW Flora Online – Royal Botanical Garden website to look up plants
Australian Native Plants Society
Australian National Botanic Gardens
NIASA Nursery Accreditation Scheme