Education
For schools
General information about education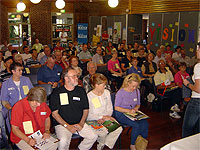 Environmental education is any process or activity that assists the development of awareness, knowledge, skills and attitudes leading to environmentally responsible practices and behaviour. The term 'education for sustainability' refers to holistic and integrated environmental education that leads to the development of a sustainable society.
Environmental education was once seen to be necessary to complement the better resourced, high profile role of enforcing environmental legislation. Significant advances in the environmental management field have led to a greater reliance on increased awareness and capacity building to generate positive environmental outcomes.
Hornsby Shire Council has recognised the importance of environmental education, employing a number of Officers responsible for environmental education at a number of levels and across a variety of resources. These Officers undertake projects that are aimed at raising environmental awareness within Council's corporate and the general community.
To enable the Environment Division's core activities to have their ultimate reach and success, it is essential that both staff and community of Hornsby Shire have an understanding of, and act upon, their individual and collective understanding of sustainability, by creating a living environment. To address this need the Environment Division staff responsible for education (in its broadest context) have prepared a
Environment Division Education Strategy 2005-2009 - 162kb.
See also the NSW Council on Environmental Education plan, Learning for Sustainability 2007-2010.
Feature Items
I Want To..
Find out about: