Bushland and Biodiversity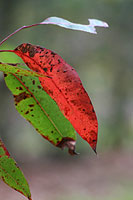 Hornsby Shire covers a total of 51,000 hectares of which approximately 67 percent is bushland, making the opportunity for bushwalking and natural experiences enormous.
Over 1000 native plant species and 338 native vertebrate animal species occur within the Shire.
Of the bushland in the shire, 52 percent is managed by the National Parks and Wildlife Service and 17 percent is managed by Council.
Berowra Valley National Park is owned and managed by National Parks and Wildlife with Hornsby Shire Council undertaking management of Crosslands Reserve, bush regeneration and catchment remediation devices in the Park.
Bio-security alert - Myrtle Rust
Australian plants are under threat from Myrtle Rust, a newly detected fungus. It is a serious pathogen which affects many iconic Australian natives. For more information and images of the fungus download Myrtle Rust fact sheet - 515kb.
Bushland Management in Hornsby Shire
Hornsby Shire Council is responsible for the management of over 6000 hectares of bushland. While most of this bushland is reserved within Berowra Valley Regional Park, there are many other smaller reserves throughout the Shire under Council's care and control. The Natural Resources Management Team is responsible for the ongoing conservation, management and rehabilitation of all Council bushland resources. Covering such diverse issues as policy development, biodiversity planning, noxious and environmental weed control, planning consent, management operations and community involvement, the Team is dedicated to the preservation and restoration of this valuable community asset.
This section of Council's website provides information on the following topics:
Bushland Reports
Download Bushland and Biodiversity Team Annual Report - 2012 - 4.8MB
Feature Items
I Want To..
Find out about: