Pest and nuisance animals
There are a number of introduced species in Hornsby Shire that significantly threaten our native animals and vegetation, with rabbits, foxes and Indian mynas topping the list.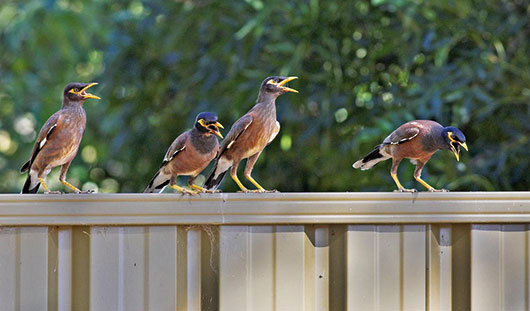 Pest animals
What is a 'pest' animal?
Under the NSW Local Land Services Act 2013, certain animals have been declared by the Minister for Primary Industries as pest species. This is due to the damage they cause to Australia's ecosystems and agricultural industries. Two declared pests that occur within Hornsby Shire in significant numbers are the European rabbit (Oryctolagus cuniculus), and the European Red Fox (Vulpes vulpes).
European Rabbits
Why are European rabbits a pest?
Since their introduction to the country, European Rabbits have caused untold damage to Australia's ecosystems and agricultural industries. They are an ongoing problem in Hornsby Shire, impacting native vegetation, residential lawns and gardens, and causing soil erosion through grazing and burrowing activities.
What is Hornsby Council doing about wild rabbits on Council land?
For large land managers, wild rabbit populations are difficult to control. Baiting is ethically controversial and trapping is labour intensive and beyond the ability of Council to make a significant impact on rabbit numbers.
Hornsby Shire Council, together with other organisations is involved in broader and more effective initiatives such as the release of biological control agents. Shooting of wild rabbits is also periodically undertaken in specified Council parkland areas by professional contactors.
What can be done about wild rabbits on NON-Council land?
Much of the land in Hornsby Shire is privately owned or managed by other agencies. For wild rabbits in National Parks or Nature Reserves (e.g. Berowra Valley, Ku-ring-gai Chase, Lane Cove, Marramarra, or Muogamarra) contact the New South Wales National Parks and Wildlife Service (Chatswood) on 8448 0400 or visit www.nationalparks.nsw.gov.au
For wild rabbits on private or other non-Council public land it is the role of the Greater Sydney Local Land Service to provide guidance and co-ordinate and enforce control. Contact the Greater Sydney Local Land Service (Penrith) on 4724 2100 or visit www.greatersydney.lls.nsw.gov.au.
What can I do about wild rabbits on my property?
For small properties, Council has a limited number of cage traps available for residents to borrow free of charge. Captured rabbits can be taken to local vets for euthanasia. Once wild rabbits are removed from an area, ongoing monitoring for re-invasion is necessary. Coordinating trapping and monitoring with your neighbours is essential. To request a trap submit a service request or phone Council on 9847 6666.
For larger infestations on rural properties, contact the Greater Sydney Local Land Service on 4724 2100.
More information
For more information on wild rabbits and their control visit:
Unwanted domestic rabbits
Never release unwanted rabbits into bushland or parkland. This is cruel to the rabbit and simply makes the rabbit someone else's problem. Instead, consider selling or giving the rabbit away. If this is not possible contact one of the following organisations:
Foxes
Foxes are a major threat in the survival of our small native animals. There are frequent reports of foxes hunting poultry from residential and rural areas.
Hornsby Council has been involved with fox control programs since 1998 but does not currently conduct these programs. Several areas within Hornsby Shire are included in the fox reduction program, run by the National Parks and Wildlife Service.
To find out about the National Parks and Wildlife 1080 Fox Baiting Program and where baiting is being undertaken, contact the Office of Environment and Heritage on 131 555.
The Local Land Services implement the Rural Lands Protection Act in relation to pest vertebrates in private lands and have general advice on which options are available to manage vertebrate pests. They can be contacted on 1300 795 299. You can also view the website for info https://greatersydney.lls.nsw.gov.au/"
Simple tips to reduce fox problems
Don't leave pet food outside overnight and never feed foxes
Use enclosed compost bins
Keep domestic animals secure at night
Remove fallen fruit around fruit trees
Keep garbage bins covered
Block entry points to drains
Close off access to underneath buildings
Use fox-proof enclosures for poultry
Turn-off outside lights that might attract insects
Reduce weeds that provide food and shelter, such as african olive and blackberries
Don't feed native wildlife as they will become more vulnerable to predators
Record sightings in FoxScan.
Further information
Nuisance animals
What is a 'nuisance' animal?
Some animals, though not legally declared 'pests', are sometimes reported as a nuisance. These can include cats, domesticated dogs, Common Mynas (previously known as Indian Mynas), rats, bees, brush turkeys, magpies, Sulphur-crested cockatoos, brush-tailed possums and termites.
All native birds, reptiles, amphibians and mammals (including brush turkeys, magpies, Sulphur-crested cockatoos and brush tailed possums) are actually protected in the State under the NSW National Parks and Wildlife Act 1974.
Indian Myna Birds
Since their introduction to Australia in 1862 Indian myna birds have had a devastating effect on our local wildlife. This intelligent but aggressive species displaces native birds, ejects nestlings and eggs of native birds from their nests and competes with native wildlife for food and habitat.
Within Hornsby Shire Indian mynas have been identified as a feral, invasive species found mainly in the commercial areas and to a lesser extent in the rural and suburban areas.
What can you do to help?
Don't leave pet food outside as it can attract myna birds
Avoid leaving food scraps around shopping centres, restaurants and cafes
Plant native shrubs around your garden to reduce open areas favoured by mynas
Check your roof for mynas and block any holes that could be entry points
Hornsby Shire Council does not trap or remove myna birds. Information on trapping Indian Mynas locally can be obtained from local volunteer, Jim Bradshaw at bradabra@bigpond.net.au
Further information
Resources
Many resources exist which help to easily access additional information on pest species and their management.
PestSmart Connect is a web-based toolkit of information on best practice pest animal management in Australia.
NRM Notes is a newsletter designed to keep all Australian NRM regions up to date with the latest developments and current projects associated with invasive animal research.