Forging stronger links with our Indian neighbours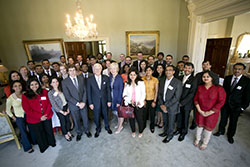 Hornsby Shire played a part in global diplomacy recently when Councillor Antony Anisse was chosen as one of just 15 Australian delegates at the annual Australia-India Youth Dialogue held in Melbourne.
The stated goal of the summit was for "the youth of Australia and India to come together and foster an enduring partnership between our two great countries".
According to Councillor Anisse, it succeeded admirably.
"We were there to discuss the various issues facing each of our countries and suggest ideas and policies that could help foster a stronger relationship between the two nations," he says.
"We also examined the strengths and weaknesses of the respective nations, discussing ways to improve education, foreign direct investment, sustainability and national security in each."
They are important issues, with India set to be one of the great powers of the 21st Century and sure to have an ever greater impact on Australia, as detailed in the Federal Government's Australia in the Asian Century White Paper.
Hornsby Shire also has a significant stake in the game, with a large and growing population of Indian-born residents.
"The Indian diaspora is having a growing influence in the community and it's well worth examining the ways the Indian community is integrating into the Australian community," Councillor Anisse says.
"In Hornsby Shire there is an appreciation of the Indian community, but I feel there is more we can be doing to promote an understanding of the Indian community to allow them to comfortably integrate into Australian society."
Councillor Anisse came away from the dialogue feeling optimistic about the future of the relationship between the Australian and Indian communities, largely because of the willingness by young people on both sides to engage with each other.
"Perhaps the most significant aspect was the forging of relationships between the young leaders in both countries," he says.
"The policies we came up with may not be adopted immediately, but the people in that room will become the leaders of tomorrow and that's when the relationships and the ideas that were suggested will pay dividends."
.