Winter is coming - so find your footy boots
Posted: Friday 7 April, 2017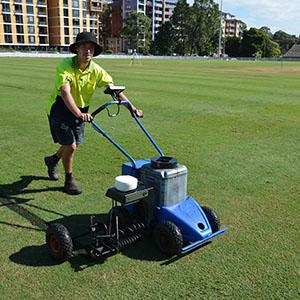 Hornsby Shire Council's parks staff are working even harder than usual, carrying out their annual mission to get the 88 various sporting fields ready for winter sport.
"The cricket bats and stumps have been put away for another year and the fields have been made ready for winter sport," Hornsby Shire Mayor Steve Russell said.
"The weeks of constant rain did not help, but our staff were up to the challenge.
"We'd like to thank the many sporting teams for their cooperation during this time, juggling outgoing finals with incoming pre-season training."
A huge help was the line-marking machine introduced last year that uses GPS technology.
It once required three people to mark a football field, using lengths of measuring tape and more than a little guesswork, but now a single person can do the entire job with precision by simply reading the GPS monitor.
In all there was almost 44 kilometres of line marking laid down (the equivalent of walking from Cowan to Sydney's CBD) and 940 litres of paint.
Eighteen cricket wickets were also covered, while 55 pairs of goal posts were installed.
"The provision of sportsgrounds is one of Council's most important tasks and it is one that we take very seriously," Mayor Russell said.
"Throughout winter more than 21,000 registered players will compete on our fields in various sports, supported by an army of parents and volunteers."
< Back