Sections of Hornsby Mountain Trail Now Open
Posted: Wednesday 12 April, 2017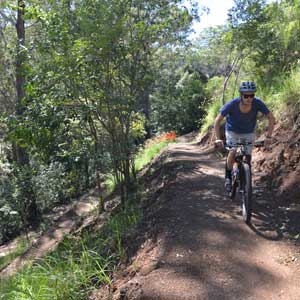 Hornsby Shire Council is proud to announce that Hornsby Mountain Bike Trail can once again be used, though riders need to take extreme care to stay on the open sections.
The trail has been realigned so it can stay open throughout the rehabilitation of Hornsby Quarry.
"The first section of trail was actually ready back in February, but since then it has spent more time closed than open because of the constant rain," Hornsby Shire Mayor Russell said.
"The weather forecast for the Easter Weekend is looking good, at least until Monday, so mountain bikers are invited to come and try it out."
Currently there are 2.1 kilometres of trail open, with more set to be completed in coming weeks.
Riders will be able to see the open sections of trail on a map that has been installed next to Quarry Road
"It is very important that riders stick to the open sections of trail, which means not using or crossing the fire trail," Mayor Russell said.
"The team from NorthConnex are working to place fill in the quarry, which will allow for a park offering a wide range of activities including new mountain biking opportunities.
"It is essential that they are allowed to do that work without interference from the mountain bikers they are trying to help.
"For a while it was looking like we would have to close the trail throughout the quarry's rehabilitation, but thanks to the generous help of NorthConnex it can stay open.
"This has been one of the most enthusiastically greeted projects Council has ever undertaken and we are delighted it is staying with us."
Hornsby Mountain Bike Trail will be open between sunrise and sunset, as it was before the realignment.
Riders will be notified on Twitter and Hornsby Shire Council's website if the trail is closed because of weather or other circumstances.
< Back