New Sport Centre for North Epping
Posted: Monday 27 February, 2017
Sportspeople of many persuasions were celebrating yesterday at the opening of North Epping Sport Centre, which provides much needed space for tennis, netball and soccer.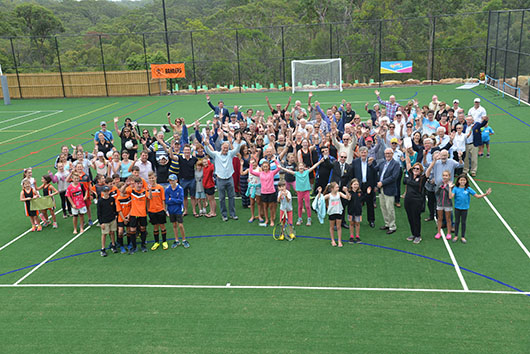 "One of Council's top priorities is to provide sporting facilities for our community, so we were more than happy to assist in this project," Hornsby Shire Mayor Steve Russell said.
"However, we were only one of the players in this game and North Epping owes thanks to a range of organisations.
"These include the Federal Government, the New South Wales Government, North Epping Bowling Club and North Epping Rangers Sports Club.
"This collaborative partnership is a prime example of how various groups can come together to achieve a common goal that benefits the community."
Hornsby Shire Council's role in the project included technical assistance, as well as a contribution of more than $150,000 that upgraded the carpark.
"It wasn't always an easy journey and there were quite a few challenges balancing the needs of so many stakeholders," Mayor Russell said.
"However, at every step of the way everybody kept firm sight of the goal we were striving for and I'm very proud that we have reached it."
< Back