Hornsby's 5,000 Poppy Remembrance Wall
Posted: Wednesday 12 April, 2017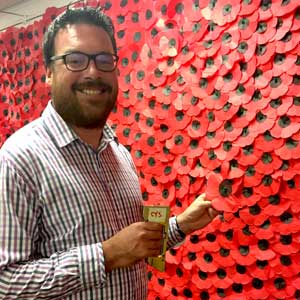 Hornsby Library will be transformed by a wall of poppies to commemorate the men and women who have served in Australia's armed forces.
Hornsby Shire Council has joined the 5,000 Poppies Project, taking up the challenge to create a tribute with 5,000 paper poppies.
"The idea was started in 2013 by two Australians who wanted to honour their fathers and other soldiers who went to war," Hornsby Shire Mayor Steve Russell said.
"Since then it has grown into a global phenomenon and Hornsby Shire Council is honoured to take part."
Council staff have been making the poppies for weeks, while a number of local schools have also been helping.
Any member of the community can create a poppy to be added to the wall, simply by visiting Hornsby Library and using the kits that are there.
"I created one of them. It's very easy and quite rewarding to know that it is going to become part of this commemorative installation," Mayor Russell said.
"We knew that the 5,000 Poppy Project would resonate with Hornsby Shire because so many of our local residents have gone to war.
"You only have to look at the many memorials throughout our Shire that are dedicated to the people who served."
Some of the poppies are already on display at Hornsby Library and all 5,000 will be there before ANZAC Day on 25 April.
For more information visit hornsby.nsw.gov.au/poppies2017
< Back