Hornsby trolleys to be locked in place
Posted: Thursday 30 March, 2017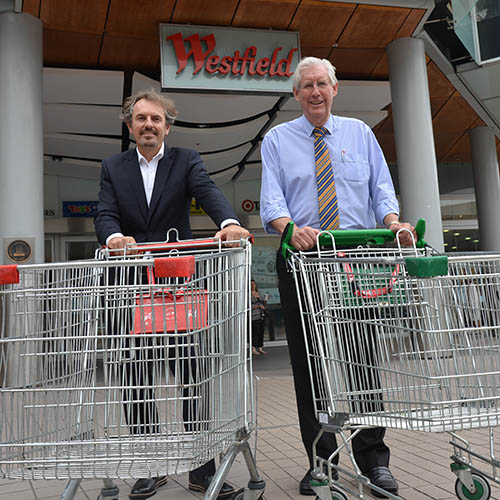 There will soon be far less shopping trolleys littering the streets of Hornsby, with Westfield and their retailers agreeing to install appropriate trolley control solutions to ensure that trolleys are maintained within the shopping centre boundary.
The preferred option at this stage is a wheel-locking mechanism, similar to those that have been installed on trolleys at Westfield in Chatswood and Bondi.
The wheels will lock at every entrance and exit of the centre, including the mall-facing entrances.
"The illegal removal and dumping of trolleys has become a major concern and Council has been working hard with Westfield and the retailers to find the best solution," Hornsby Shire Mayor Steve Russell said.
"Westfield has always been a responsible corporate citizen and this is another example of them listening to the community and cooperating with Council to achieve the best results."
Westfield Regional Manager Jason Knott said similar wheel-locking systems are being trialled at other Westfield centres.
"We're looking at solutions to resolve issues with dumped trolleys and believe this could help mitigate the problem," Mr Knott said.
"Westfield prides itself on being an active member of the community. When Council came to us with this problem we were only too happy to sit down with our retail partners and Council to find a solution.
"We are very grateful to Council and our retailers, who own and manage the trolleys, for their responsiveness and cooperative spirit.
"There were all kinds of suggestions being thrown around publicly, but Council met us in the middle to find a solution."
Westfield will oversee the installation of the trolley locks, which will be implemented by the retailers over coming months.
"We are grateful to Westfield and the retailers for working together with Council for the benefit of the community on this issue," Mayor Russell said.
"In the meantime I appeal to all residents to act responsibly and return trolleys to their rightful location."
< Back