Asquith paintings claim top honours in the Hornsby Art Prize
Posted: Monday 20 November, 2017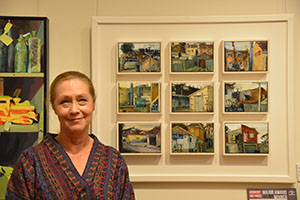 Mount Colah artist Lyndall Beck has won the top award in this year's Hornsby Art Prize, taking home $10,000 for her nine beautifully painted scenes of Asquith.
Lyndall's artwork Hornsby Postcards also won the Wallarobba Outstanding Local Artist Award.
"I wanted to capture some of the disappearing buildings from the Shire such as the small cottages," Lyndell said.
"I wanted to get the generic character of the quirky areas that have evolved and document them."
The winners of the 2017 Hornsby Art Prize were announced on Saturday night at an award ceremony at Wallarobba Arts and Cultural Centre.
Hornsby Shire Mayor Philip Ruddock, who was there to announce the winners, congratulated Lyndall.
"This is certainly a deserving work of art and it sits very comfortably among the previous winners," Mayor Ruddock said.
"One of Council's major goals with the Hornsby Art Prize is to support local talent and it's very pleasing to see works of such calibre among the more than 400 entries."
Other winners were:
Painting – Jeska Valk with 'Blind'
Printmaking – Kirtika Kain with 'Stratum'
Drawing – Greg Warburton with 'High Country'
3d Works – Jenny Green with 'Lyrical 4'
The Emerging Artist Award went to Cheltenham local Samantha Wiltshire, who will be given the opportunity to showcase her work in a solo exhibition at Wallarobba Arts and Cultural Centre next year.
"This year's awards have seen a high level of talent across the different categories," Mayor Ruddock said.
"The finalist entries will be on display at Wallarobba Arts and Cultural Centre until Sunday 26 November and I encourage everybody to see them.
"Don't forget to vote on your favourite work on Council's Facebook page."
The Hornsby Art Prize is organised by Hornsby Shire Council in partnership with the Hornsby Art Society and is the climax to the annual Festival of the Arts.
For more information about the exhibition visit fota.com.au.
< Back