Art through a circle of friends
Posted: Thursday 19 October, 2017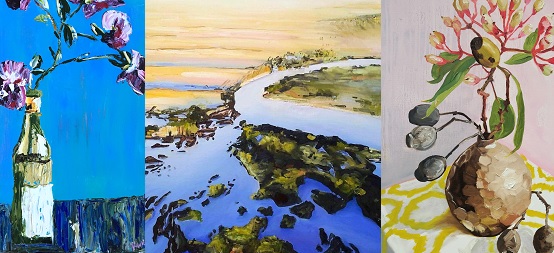 Image courtesy of Kerri Fitzpatrick, Sandy Weule and Susanne Latimore
A circle of friends from Berowra have joined forces to demonstrate the full range of their creativity at Hornsby Shire Council's Festival of the Arts.
Kerri Fitzpatrick, Sandy Weule and Susie Latimore have created more than 40 oil paintings that include still life, landscape, portraits and abstract work.
The three women came together at the art school Art in Berowra when each were experiencing major life changing events.
"Art has been the one thing that helped each of us to move through these challenging events," Sandy Weule said.
At the time Susie Latimore had resigned from her news anchor job at Sky News.
"As a mum, drawing and painting has always been a way that has helped me keep sane as a mum," Susie said.
"It wasn't until my son was diagnosed with cancer that my structured career path changed and I now paint every day."
The exhibition was inspired by the desire to celebrate creativity, to be brave and to encourage others.
"The exhibition is a great celebration of the power of art and friendships," Kerri said.
"Working alongside these incredible women has inspired me both personally and professionally."
An opening event will be held on Friday 27 October, 7pm-9pm at Wallarobba Arts and Cultural Centre.
For more information visit fota.com.au
Breathe exhibition
Where: Wallarobba Arts and Cultural Centre, 25 Edgeworth David Avenue, Hornsby
When: Tuesday 24 – Sunday 29 October, 10am – 4pm daily
< Back