Picture Pennant Hills
In November 2016, Council facilitated a visioning exercise with the local community to inform a future master plan for the Pennant Hills Town Centre.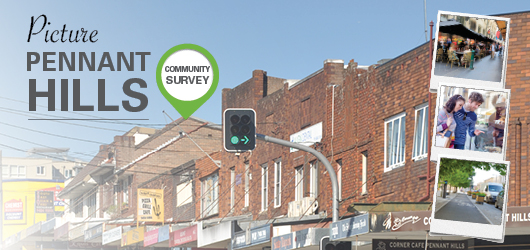 Background
Council invited the Pennant Hills and Thornleigh community to flag their ideas on planning priorities for the Pennant Hills Town Centre, to help picture a master plan vision over the short and long term.
Recent infrastructure projects in the area, including the completion of the Epping to Thornleigh Rail Track, and the commencement of the North Connex Tunnel, provides an opportunistic time to review the role and character of this important Centre.
Rate payers within the suburbs of Pennant Hills and Thornleigh were invited by letter to complete the Picture Pennant Hills community survey. A random pedestrian intercept survey to capture visitors' views will also be undertaken in the Town Centre.
The community survey is the first phase of the Pennant Hills Master Plan Review Project. The community survey closed on Friday 2 December 2016. Survey responses are now being reviewed and will be reported to Council in 2017.
For further background information on this important project, please see Council's Report:
Pennant Hills Town Centre Master Plan Survey_ Meeting 8 June 2016
Questions? Please call the Strategic Planning Branch on 9847 6726 during business hours.